More Reports of TFG Looting
One Person Killed, Three Wounded as Aid Stolen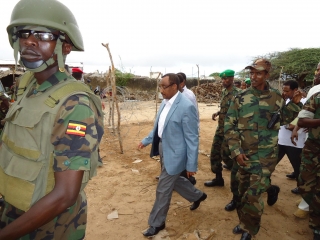 One person was killed and three others wounded on Friday when gunmen in Transitional Federal Government uniforms looted food being distributed by Turkish aid workers in Mogadishu's Waberi district – the second such incident in the area this week.
"They were dressed in TFG uniforms ... they took the aid food - sugar, rice and spaghetti," a Waberi resident who requested anonymity said. "I was shocked as they killed vulnerable people." Ahmed Faal, the commissioner of Waberi district, and other government forces arrived at the scene after the looters had fled. Faal told the displaced people in the camp that the soldiers would be put on trial if found.
Government officials say that militiamen disguised as TFG soldiers are to blame for the looting and violence, which appears to be on the rise as the delivery of humanitarian aid steps up.
Families sheltering in the Dharkenley district told Somalia Report that Turkish aid was stolen this week as hundreds of people queued. The government has vowed to boost security at the camps to prevent looting, but so far little if any action has been taken, internally displaced say. Some soldiers have been executed, but it appears to be having little effect.