Banadir Hospital Bursting at Seams
60 New Patients Registered Each Day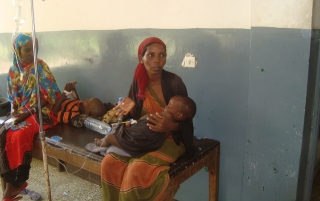 The number of malnourished women and children and patients suffering from cholera and diarrhea in Mogadishu's Banadir hospital has increased with a lack of medicine hampering efforts to save lives, officials say.
"Continuously the number of women and children admitted to the hospital is increasing; most of them are suffering cholera and diarrhea, although 90% have a high rate of malnutrition," Dr Luul Mohamed Mohamud, head of the hospital's children's department, told Somalia Report. "Patients are still facing a scarcity of food, drinks and medication to sustain their normal life in the hospital, specifically women and children."
While the hospital has received money, medicine and food from the Somali community, diaspora and non-governmental organizations, she said the sheer volume of patients – mostly internally displaced people from Lower Shabelle, Bay, Bakool, Gedo and Middle Shabelle - was overwhelming the facility.
More than 60 new patients are being registered each day, registrations officer Abdi Yare told Somalia Report.
Patients are growing more concerned over the conditions, which they had hoped would be better following their trauma of crossing battle zones to reach the capital.
Daa'uud Abdukadir Yassin is from a district near Jowhar, Middle Shabelle, and he was with his wife and three of his six children in the hospital, were they are being treated for cholera and anemia.
"Many times we tried to reach Mogadishu, but the al-Shabaab fighters in that region will not allow you to go there because they believe that you're going to unite with their rivals when all we are looking for is medication and humanitarian assistance," he said.
One official, Mukhtar Aden, said local businessmen, nonprofit organizations and Mogadishu residents have helped, receiving donations through diaspora groups organizing themselves on Facebook. Hormud Telecommunication Company has donated 50 mattresses, while Djibouti's ambassador to Somalia donated $50,000 USD and offered to take seriously ill to Djibouti hospitals.
On Saturday, Prime Minister Abdiweli Mohamed Ali visited the hospital to hand out aid, including crucial drugs, from the United Arab Emirates. Somali-Canadian rapper K'naan Abdi Warsame also visited the hospital in his first return to his homeland for decades, and said he was moved by the conditions people were facing.