IDPs Say Govt Troops Loot, Kill
Army Blames Militia in Disguise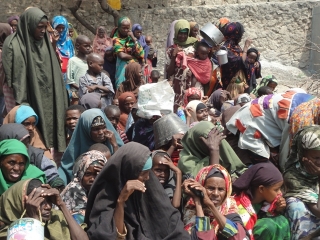 Government forces killed five displaced people as they looted and robbed aid that was meant for drought-affected people in a camp in Waberi district of Mogadishu on Monday, residents of the camp said, although the army blamed militia for the act.
If true, it is the latest in the line of examples of unruly government forces killing civilians as they divert humanitarian aid.
Some of the displaced people told Somalia Report that the robbers were dressed in Somali national forces uniform.
"The soldiers have looted all the relief aid we were given; I was beaten with the butt of a gun and they forcefully took everything," one woman said. "Every day they come here and take all the food distributed to us and there is no one protecting us."
"They killed two women and three men from this camp, and one of the killed men was my relative," she added.
The allegedly looted food – oil, rice and flour - was relief aid brought by Turkish government
The deputy commander of Somali National forces, General Abdihakin Yusuf Dhego Badan, denied the allegations that government troops were involved.
"I told the press more than one hundred times, the national forces are in the frontlines, fighting with the terrorists and they are not to blame for what is happening in the camps," he told Somalia Report.
"Everyone knows the robbers, they are clan militias pretending to be national forces, but I hope that the security forces and the TFG leaders will come out and take immediate action against those thugs," he added.
Earlier this month, Somali government forces opened fire in Badbaado camp as they looted aid, killing more than half a dozen people.
The government has promised to deal with looting of aid. However, despite the executions of some soldiers for looting, the practice appears to be growing more widespread as the international response steps up.