Iran Foreign Minister Pledges Aid
Iranian Delegation Latest in Glut of Foreign Visitors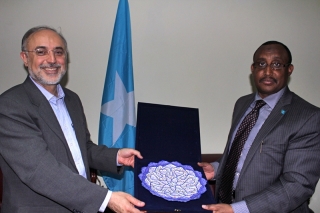 Iran's foreign minister, Ali Akbar Salehi, on Tuesday pledged $2 million to help set up health clinics and 5,000 tons of humanitarian aid during a visit to Mogadishu.
"We are ready to work with our brothers, and we will try to take part in building hospitals and give other important aid to drought victims," Salehi said after touring the city and visiting internally displaced camps.
Salehi is the latest high-profile visitor from a Muslim country, following on from the visit of the Turkish prime minister last week. Visits to Mogadishu have ramped up following the withdrawal of Islamist militant group al-Shabaab from the capital.
Islamic nations are stepping up their response after early criticism they were not doing enough to help their Muslim brothers in Somalia.