Charcoal Trade Stripping Somalia of Trees
Deforestation Contributing Factor to Famine, Say Experts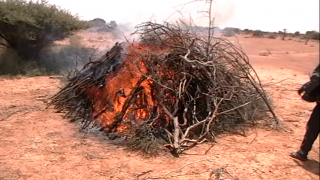 Since the fall of Somalia's central government in 1991 and the resulting decades of chaos, illegal deforestation for charcoal – a major source of income for Islamist militant group al-Shabaab - has become an everyday practice.
The decimation of trees in southern Somalia has caused tremendous environmental damage, and many believe the practice has contributed heavily to the current famine that the UN says has claimed tens of thousands of lives.
Lack of alternative energy sources
According to the United Nations Environment Program (UNEP), a lack of energy alternatives in the country is the primary driving cause of the deforestation that has engulfed the region.
"Severe deforestation caused by illegal logging, export of charcoal and forage, mining, firewood, fire, frankincense search and famine affect Somalia unimaginably," UNEP Ecosystem Management Program Officer Mohamed A.S Abdel-Monem told Somalia Report. "They use trees for cooking, warming, housing, furniture, etc."
"With this ever-increasing demand for fuel, many environmentalists believe that the trade in charcoal will eventually wipe out some species of trees," he added. "Deforestation not only exacerbates soil erosion, it also reduces rainfall availability, carbon fixing, which is the natural process of reducing the amount of carbon dioxide in the atmosphere, pollutes the air, and causes global warming."
Charcoal-making process
Charcoal is made by chopping down trees, setting fire to a closely stacked pile of branches and trunks, and covering it with sand so that the amount of oxygen and air is limited. This super charges a process that would otherwise take years to achieve naturally.
Previously, charcoal-making was limited to a small group of cutters who used hand axes and responded to an internal and local market demand. Most Somali households use it for cooking. But since charcoal became a lucrative export trade to the Arab states, businessmen and environmentalists say battery-powered chain saws have been introduced to make it simple for anyone that needs to start charcoal business.
Most of the charcoal is made in southern Somali, which is savannah with a few forested areas. More than 80% of the trees used for charcoal are types of Acacia, of which Somalia has many. Somali environmentalists believe that more than 25% of Acacia trees have been chopped down, and the population is dying much faster than previously thought. As much as 40% of the trees could be gone soon, they say.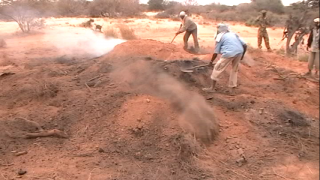 A source of income
Following the ouster of Mohamed Siad Barre's regime, starting a business in Somalia became an easy option for everyone, and the absence of a regulatory system in the country paved the way for illegal charcoal trade.
The charcoal business has become a source of livelihood for many families displaced in the civil unrest and the recent drought that has affected millions of families in south and central Somalia. The charcoal is produced in remote areas and then brought to cities for use and export.
For example, in Beledweyne, Hiran region, the business booms as the transitional federal government's ban is not effective in the al-Shabaab-controlled region. Abdirahman Haji Ali has worked in this trade for many years and he explains that since al-Shabaab came into power, they had to double production as the group imposed more taxes on the charcoal traders.
He acknowledges that most of the people involved in this business are aware of the environmental damages and the consequences, but living conditions in the country leave them with little alternative.
"We are forced to do this business; we know it is not good thing to do, but circumstances force us to do it," he told Somalia Report. "Al-Shabaab has imposed heavy taxes on us and threatened to shut down the business if we do not comply ... we cut down more trees every day to get a little bit extra of income to support our families."
Insurgent finances
Following al-Shabaab's withdrawal from Mogadishu, and the income the group has lost from the taxation of markets such as Bakara, income from the charcoal trade will only become more important to the insurgents. There are no firm estimates on how much many the trade rakes in for the militant group, but it is believed to be in the millions of dollars each year.
A source close to the insurgents, who asked for anonymity, said al-Shabaab allows the exportation of charcoal from Kismayo port to the Gulf States, imposing heavy taxes and establishing direct links with charcoal industry business figures.
Dahabo Farah lives in Beledweyne and works in the charcoal industry. She said it is no secret in the regions under al-Shabaab's control that charcoal is one of the insurgents' biggest sources of income.
"Everyone knows that al-Shabaab openly allows this trade," she told Somalia Report.
According to the source, 90% of charcoal exportation takes place through Kismayo, an insurgent-controlled port city 500 kilometers south of Mogadishu, which is also a cash cow for taxes on imports and exports and a key re-supply point.
A case study by the Information Center for the Environment (ICE) estimated that Somalia produces over 150,000 metric tons of charcoal per year. Over 80% of this haul is exported to Gulf States.
UNEP had this to say in an earlier study:
On the basis of a study made on wood-based energy dynamics in Somalia, the charcoal output of north-east Somalia in 1996 alone was estimated to be in the order of 4.8 million sacks, each weighing 25-30kg. Producing such a volume required cutting about 2.1 million Acacia nilotica trees. At an average density of 60 trees per hectare, this translates into a deforestation rate of 35,000 hectares of land a year. Such a rate of deforestation would have cleared 170,000 hectares of land during the last five years of the 1990s alone, when the area witnessed a massive outflow of charcoal form export.
Experts believe that the high demand for charcoal in oil-rich countries of the Gulf keeps the trade lucrative and hard to control.
"If the demand in the Gulf region continues growing as it is now, it will be very hard to control it unless a strong and functional government is formed," Abdi Sheikh Ali of Hiran University told Somalia Report.
Administrations ban the trade
The devastating toll that the charcoal trade is having on ordinary people is now alerting other administrations in the country. Pro-government militia Ahlu Sunnah wal Jamaa, which controls areas of central Somaila, ordered residents in areas under its control not to cut down trees for charcoal, and warned anyone ignoring the order will face prison or fines.
In the north of the country, intellectuals, business communities and traditional elders in Sool and Sanaag regions have followed ASWJ and banned the trade.
However, many doubt the regional administrations and armed militias have the credibility and the ability to enforce their policies.
Devastating Consequences
According to ecologists, trees play a vital role in regulating the climate as they absorb carbon dioxide. Trees are also crucial for other human needs such as timber, fiber and medicines, water and biodiversity conservation as well as soil fertility for agricultural purposes.
Abdel-Monem believes such extreme deforestation has direct links with the drought and famine in Somalia, which has seen pastoralists and villagers flee to cities in face of failed rains.
"Deforestation has been a major contribuutor to the current famine and drought situation in the Horn of Africa," he said. "The loss of ground cover and root systems leads to increased erosion in the riverine areas that accelerates the process of desertification, decreasing the amount of land useable for agriculture or even grazing, pushing locals out of areas as they become uninhabitable after charcoal traders clear all of the trees."
"Widespread deforestation leads to a significant decline in rainfall and triggers a positive-feedback process of increasing desiccation for neighboring forest cover; reducing its moisture stocks and its vegetation would then further the desiccation effect for the region," he added. "This deforestation also decreases bio-diversity as species that relied on trees are unable to survive without them. All of this ultimately hurts the livelihoods of Somalis not involved in the charcoal trade in these areas. Pastoralists graze their cattle in the grass that flourishes while the acacia groves' root systems hold in ground water and prevent erosion."
Citing the reasons mentioned above, Abdi Ali Sheikh, an expert in the forestry and related issues, warned the current crisis will have much greater consequences if the matter not addressed.
"If the root cause of the problems is not addressed, I think emergency relief will not be enough to tackle the problems," he told Somalia Report.
At the moment, however, the vast majority of international efforts are focused on emergency relief - a pattern that has been repeated down the years with few, if any, programs aimed at tackling the root causes.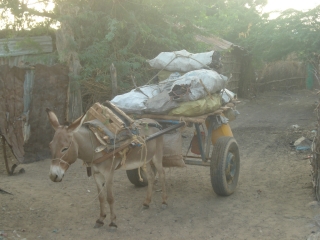 What is the solution?
According to the UN, Somalia is one of 13 African countries that will face water scarcity in the year 2025, largely because of human activities such as deforestation, overgrazing and other inappropriate land use.
So finding a solution for the deforestation and decimation is as important as finding peace and political solution in Somalia – a subject that has received less attention, according to Abdi Ali Sheikh.
"Deforestation and related problems have not received much attention from the international community, which is an unfortunate," he said. "The international community needs to address the problem of deforestation in Somalia, and I think as the drought crises gripped the nation, I hope the international community will think of the root causes of the problem, not just the symptoms.
Abdel-Monem believes finding alternative energy and banning the trade is the best solution, although he doubts anybody is in a position to actually implement policies given the widespread insecurity.
"There needs to be a search for alternatives to charcoal energy e.g. natural gas, hydroelectric power," he said. "Given the critical importance of natural resources to people's survival and wellbeing and to the broader economy, it is essential that a guiding environmental policy and appropriate regulations be developed to protect the environment. Another challenge is to mitigate the effects of climate change and ban the export trade in charcoal."
"Unfortunately the political situation in the country will not favor the implementation of such policies," he added. "Stopping the charcoal trade in Somalia is a complicated subject that will need wider cooperation between the recipients of the charcoal, that being Gulf States, and the Somali business community since there is no functional government in the country to enforce a ban.
With al-Shabaab desperate for finances to continue its battles, and still in control of much of Somalia despite the Mogadishu withdrawal, there is little chance of an illegal trade that has taken a heavy toll on Somalia's environment ending any time soon.