UPDATE
Turkey PM Visits Mogadishu Amid Fighting
Visit Intended to Rally Muslim Aid, Show Improved Security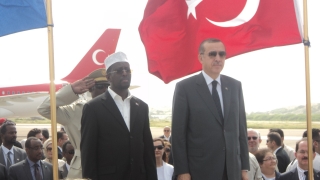 Turkey's prime minister Recep Tayyip Erdogan on Friday paid a visit to Mogadishu in an attempt to draw the world's attention to the famine, amid on-going fighting.
Erdogan was accompanied by four ministers as he visited camps for the internally displaced around Mogadishu. Local journalists were prevented from covering the visit, with some reporting they were beaten by security forces.
Turkey was amongst dozens of Islamic nations to pledge a total of $350 million dollars to famine relief under the banner of the Organization of Islamic Cooperation earlier this week.
Muslim nations had been criticized for not doing enough to help Somalia, and Erdogan's high-profile visit is seen as a rallying call for more aid from Muslim nations and a demonstration that the city is more secure after militant Islamist group al-Shabaab quit its bases.
Turkey Opening Embassy
Turkey's Foreign Minister Ahmed Davutoglu said today that the former Turkish embassy in Mogadishu will be renovated and reopened as soon as possible to enhance diplomatic relations with Somalia.
The new Turkish ambassador to Somalia, Keynan Ipek, also submitted his credentials to the Somali president paving the way for Turkey to commence operations of its new embassy.
Fighting Continues
However, al-Shabaab sent its own message, injuring four as it fired mortars at the presidential palace, while there was heavy fighting near Ex-Control Afgoye. The insurgent group is harrying government forces as they take control of vacated bases.
Al-Shabaab says it left Mogadishu as part of a switch from a conventional war it could not win in the face of African Union tanks to more traditional insurgent tactics of ambushes, IEDs and suicide blasts.
At least five people were believed killed in the clashes at Ex-control Afgoye, southwest of the capital. The fighting broke out when al-Shabaab militias attacked the checkpoint according to the government officials. At least 6 others were injured in the clashes according to the residents and witnesses.
The commander of the Ex-control checkpoint, Hassan Jamici, who said he had been injured already in previous fighting, told Somalia Report that his troops killed three al-Shabaab fighters in the latest clashes.
"I'm in Medina Hospital as I had already been injured during the previous clashes," he said. "I was told that three of the al-Shabaab militia were killed."
The commander says four government troops were injured in the latest clashes. Independent source told Somalia Report that two of the deaths were civilians.
Residents in Siinka-Dheer area said they had seen heavily armed al-Shabaab fighters going back to their stronghold Elasha Biyaha after the fight.
At least three civilians were killed in the mortar attack on the presidential palace, including two young children, when a shell landed on their home, a witness said.