UK Warns 400,000 Children Face Death
Pledges £25 Million To UNICEF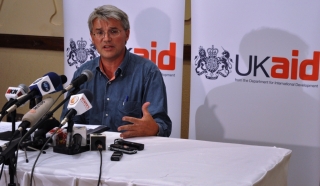 Up to 400,000 children are at risk of starving to death if urgent action is not taken now in drought-ravaged Somalia, the British International Development Secretary Andrew Mitchell told reporters in the Kenyan capital Nairobi late on Wednesday.
"Without an urgent response, the crisis could become as bad as the famine in 1991-2," Mitchell said after returning from Mogadishu. "This saw over 200,000 people lose their lives and aid workers are now seeing some of the same severe malnutrition rates in certain areas, and over 50% of the population is affected."
Mr. Mitchell, who was the first British Minister to visit Mogadishu in over nearly two decades, said lack of healthcare, inadequate immunization, poor access to clean water and sanitation are all contributing to a rise in disease outbreaks, including cholera and measles.
"Urgent action in all these sectors, not just food assistance, is vital to prevent more unnecessary deaths," he said.
The secretary announced that Britain will supply £25 million new cash to UNICEF to fund extra food and medical supplies to more than 800,000 women and children in Somalia, as figures show that half of those who have died during the famine in Somalia are children.
"The UK's new package of support to the UN organization for children, UNICEF, will allow them to double the number of children they are reaching in their supplementary feeding programs," said Mitchell.
He said planes and trucks carrying crucial British-backed aid have already arrived in some of the most drought-stricken regions.
"More than 4000 metric tons of life saving supplies has been distributed in the south of the country," he said.
The UK will also provide £4m to the Food and Agriculture Organization to help protect the remaining livestock by supporting treatment and vaccination of 2.1 million animals weakened by the drought, benefiting 70,000 livestock owners and distribute seeds and fertilizers to 12,500 households, according to Mitchell.
Oxfam aid
Oxfam on Thursday airlifted 47 tons of water supply equipment and hygiene materials to Mogadishu, where the agency says there is an outbreak of cholera. The aid, which includes water tanks and pipes to set up water points across the city and tons of soap bars, is meant to reduce public health risks in highly populated IDPs camps in Mogadishu.
In statement released today the agency also said that 12,000 jerry cans were part of the airlifted aid to help the IPDs to carry and store water. Oxfam will send in a total of three flights. The aid is meant to reach over 120,000 people.
Oxfam's partner organization Hijra, which operates in Mogadishu and the outskirts of the capital, has seen increasing cases of cholera.
The cases are mostly affecting children and women. The organization has started distributing oral rehydration salts and soap as a cholera prevention program that is reaching 20,000 people in three camps in the capital.
"Clean water and soap are vital to help prevent a public health crisis, as people weakened by hunger are particularly at risk of disease," said Adan Kabelo, Associate Country Director for Oxfam in Somalia. "With the recent cholera outbreak in Mogadishu, this assistance will save lives."