Local Group Delivers Aid to Somalis in Kenya
Child Dies in Desperate Crush for Food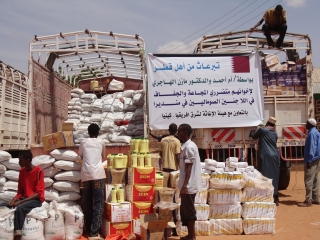 Local organizations have distributed 96 tons of humanitarian aid in Kenya's Mandera town, where thousands of Somali refugees and Kenyan internally displaced are facing starvation.
The aid, ranging from food to plastic sheeting for shelter, was to be distributed in the Somali town of Beled Hawo, but for fear of looting it is being distributed in Mandera.
The aid was part of a massive drive by Qatarian citizen Dr. Mazin Al Hajiri. Speaking in Mandera Islamic centre, Al Hajiti told Somalia Report he collected cash from Qatari citizens.
Mandera East MP Mohamed Hussein Ali, who was supervising the aid distribution, told Somalia Report that authorities allowed people from Beled Hawo to come to Mandera to collect aid, then return across the border.
"We do not stop hungry people," he said. "We let them in because the aid is actually meant for them. They take (the aid) and go back to their city while we confirm their safety in Mandera."
"Whether they are Kenya or Somalis, Somali people are all related so they help each other and share the little they have," he added. "For that reason, many Somali refugees are in Mandera."
The desperation for help led to the death of a small child, who was trampled when hordes of refuges began screaming, pushing and running towards where the food was prepared.
"The 96 tons of food contained rice, sugar, tinned fish, oil, milk, biscuit, dates, water and more diet food," local aid official Sheikh Ahmed Nor Haji Mohamed told Somalia Report.
On Friday, local organizations distributed 120 tons of food for 7,000 IDPs in Somalia's border town of Dhobley.