Police Arrest 4 Suspected Rapists In IDP Camp
Suspected Men Attempted To Rape Women In Badbaado IDP Camp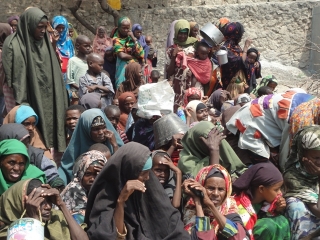 Somali police on Sunday arrested four suspected rapists in the Badbaado camp in Mogadishu.
According to police sources, the four men were detained after they attempted to rape internally-displaced women living in the camp.
"During our tour of duty in the camp we took into custody four men, who were trying to rape women living in the IDP camp," said Dahir Jum'ale Adow, a police commander in-charge of the camp.
According to Adow, one of the men is believed to be a member of the militant group al-Shabaab. He said the four men were later locked up in jail.
On Saturday, Somalia's Transitional Federal President Sheikh Sharif Ahmed declared a state of emergency in all IDP camps in Mogadishu, as well as areas reclaimed from the militant al-Shabaab.
Badbaado is one of the biggest internally-displaced persons' (IDP) camps on the outskirts of Mogadishu and is fully controlled by the Transitional Federal Government (TFG). Security around the camp has been tightened up as international aid organizations, including the U.N. agencies, continue to distribute much-needed relief food supplies to famine victims.