Feature
A Day in the Life of Somali Aid Worker
Trying to Overcome Looting, Lack of Funds, Shortage of Supplies and Curses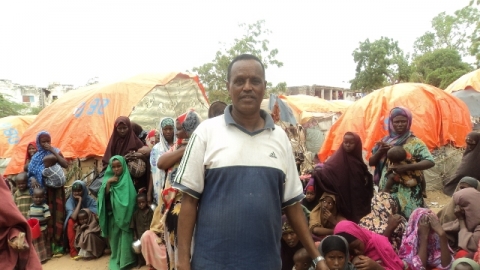 Two decades of war and drought have forced many Somali people to become refugees or internally displaced people (IDPs) who require daily support in order to survive. But, help only comes from those willing to give it and Somali aid workers risk everything to assist their fellow citizens.
In Mogadishu there are a number of organization that work with IDPs from distributing food to providing health care, but what is their typical day and what challenges do these selfless workers face as more and more IDPs flock to the capital?
"I get up early in the morning. I go to my office and look my GANTT-chart or schedule so I know the plan for the day. Since I am an emergency officer, I visit IDPs in the camps to get information about the real lives of the victims so I have a better understanding of how to support them," Ali Gaffe Ilmi of Muslim Aid UK told Somalia Report.
According to the officer, Muslim Aid buys food from local markets but medicine and other supplies are shipped in by boat or plane. Due to the severe famine devastating Somalia, Muslim Aid's main focus is food distribution.
"I believe this is a good job because we support our brothers and sisters, but at the same times we feel frightened because some people, like the militants, might accuse us of being the enemy," said Ali.
Throughout his 16 years as an aid worker, Ali told Somalia Report that he has never seen such tragedy and urged the international community to help.
"During our work we see countless victims. Last month I met children whose mother died while in the camp. They were orphans," said the officer. "For only $1 per day, we can save so many people. That's all it costs to feed one person per day."
Another aid worker, Hassan Abdullah Yusuf of Germany's Daryeel Bulsho Guud (DBG) non-governmental organization, told Somalia Report that he visits Magool camp near Benadir junction to provide lunch for the IDPs everyday.
"I get up very early and go to the store to prepare the lunch for 1,450 persons. I supervise the cooks and hand out food," said Hassan as he was passing out rice and meat to women and children.
According to Hassan, the IDPs who mainly hail from Bay and Bakool are thankful for the lunch from DBG, but stresses they need more money to continue helping.
"Since we are so desperate for funds, we are giving 50% of our salary to help our brothers. We don't have a special fund so we have been doing this feeding program since last month ourselves," said Hassan. He also added that they are planning to continue feeding since through next year.
Looting
Some NGOs and aid workers are working in cahoots with 'camp leaders' to loot food intended for IDPs, according to Ash Hassan, an IDP in Mogadishu who refused to go on record. She alleges that there is a contract between camp leaders and IDP staff whereby they agree to loot 50% of the aid they normally give the victims and sell off the rest.
"If you go to the market, you can see the looted aid being sold in the markets for less cost," said Abdi Hassan, an IDP in Mogadishu, who agreed with Ash.
Although some organizations have been suffering from looters, Ali said that Muslim Aid has not had that problem since they do not keep stored food.
Hussein Mohamed Abdulla, a camp leader for 14 years, and told Somalia Report that that locals put a curse on those stole aid.
"I witnessed one case before. My friends urged me to loot aid intended for the IDPs. I refused to do so, but those that did died immediately because of the curse," said Hussein. He couldn't disclose exactly how they died, but he was convinced it was due to the curse.
Whether or not one believes in curses, it seems looters are going to get punished one way or another. The Somali government is taking action against any soldiers accused of looting and recently sentenced two soldiers to death who did just that.