UNHCR Delivers Aid to Mogadishu
First Airlift to Capital in Five Years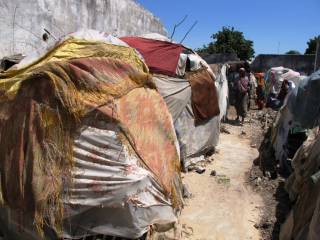 The UN Refugee Agency (UNHCR) on Monday delivered 2,500 sets of shelter materials and cooking utensils to Mogadishu – the agency's first airlift to the capital in five years.
An estimated 100,000 Somalis have flooded the capital over the past two months, UNHCR said, fleeing the famine that has engulfed the country and claimed tens of thousands of lives. There were already over 370,000 internally displaced people in Mogadishu, UNHCR said.
Since militant Islamist group al-Shabaab, which has banned many western aid agencies from operating in areas under its control, left Mogadishu on Saturday, the opportunity to deliver aid to more people has opened up.
However, UNHCR said it was still far short of the required level of funding.
"This airlift of emergency assistance items will allow us to continue delivering aid to those displaced by drought and famine," said UNHCR Somalia Representative Bruno Geddo. "However, we need the funding support to continue to enable us to replenish our emergency stocks inside Somalia as they are being rapidly depleted as we deliver much-needed aid across southern Somalia."
UNHCR has appealed for US$145 million for the whole of the Horn of Africa, but has only managed to raise 45% of that amount. The figures for Somalia alone are even worse, with only $16 million of the requested $54 million in place.