Fraud and Rape Erupts in Mogadishu IDP Camp
IDPs Report Severe Abuse and Looting in Badbaado Camp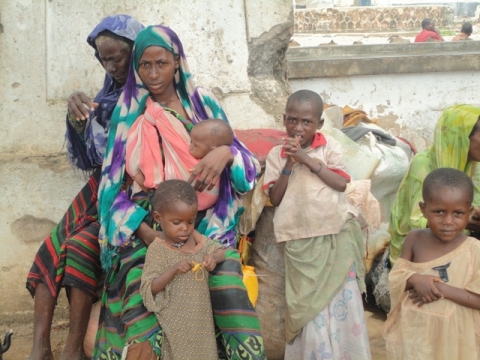 Thousands drought-affected Somalis who have arrived in Mogadishu's camps for internally displaced people (IDP) have accused Transitional Federal Government (TFG) soldiers and officials of looting, corruption, bias, and severe abuse.
Dozens of females, including a pregnant woman and young girls, told Somalia Report they were raped in Mogadishu's Badbaado camp while several others fled for fear of being raped.
"Many girls were raped and humanitarian aid was looted so we fled the camp," said Hawo Mohamed, a 32-year old mother of four, who now tries to survive outside a former Italian church in Hamar-weyne.
At least ten 10 women have been reported being raped in Badbaado camp within the last two months, according to UN officials.
"A UNHCR representative and Banadir Mayor Moahamud Tarsan visited Badbaado camp and interviewed a 13-year old who was brutally raped," Istahil Abdi, a UNHCR representative told Somalia Report. "We also spoke to a woman who suffered a miscarriage after she was raped and now is in critical condition."
Most of the IDPs in Badbaado, including Hawo, who fled from al-Shabaab controlled areas in southern Bakol or Lower Shabelle which have also been hit by severe drought and famine, complained of corruption within the camp.
"Two months ago we arrived Badbaado camp and the authorities gave us refugee cards, but that card is not helping us. Today government officials are only supporting people who they know or are relatives. That is what made us flee," said Hawo's friend, Sonta Ali.
Hassan Mohamed, an IDP in Hamar-Weyne, told Somalia Report that camps authorities are not people to be trusted.
"They write our names but we are not the beneficiaries. They are. It is as if we are the actors but we are not participating in the movie," he said.
The chairman of Somalia's Peace and Democratic Party, Abdullahi Sheikh Hassan, said that now is the time to carry out an investigation and bring those who were suspected to court.
"I am so surprised to see government officials participating in the selling of humanitarian food to Mogadishu businessmen. One day they will face the law," Abdullahi said.
Nowhere to go
Meanwhile, conditions for those that remain at the camp are grim.
Ahmed Osman, a father of four children and IDP in Badbaado, buried his second child since arriving in Mogadishu last month.
"My 3-year old boy died from malnutrition and hunger. He is our second child that has died from these circumstances. We despair," said Ahmed.
Ahmed's children are among 29,000 children under the age of 5 that have died as result of famine, according to a US official.
Some said famine wasn't the reason they fled to Mogadishu and instead blamed the hardline Islamic militants, al-Shabaab.
"The predicaments of the fighting drove us from our original residences compared to the implications of the drought. Al-Shabaab imposed strict orders on us including forced taxation, extortion, and forced recruitment," said Ahmed who fled from Bay and Bakol regions.
For others, there is simply no hope.
"People are in despair. We are stuck in between two extremes: either dying in a fight or starving to death. That is the worst dilemma ever face by a human being," said Abdikarim Mohamed, a scholar and a researcher in Mogadishu.
Others complained that the government is too preoccupied with political squabbling and fighting al-Shabaab in Mogadishu to pay much attention to the IDPs.
"Government leaders show up and pay visits, but that could be interpreted as simply showing off and lacking a real sense of supporting the drought-victims. It is just a visit," said Abdikarim.
As the number of the people affected by famine increases, corruption among aid agencies, government administrators, contractors, and local aid delivery system also increases.
"Every problem has its beneficiary. There are many people whose interest lies in the continuation of the crisis," said Mohamed Haji, a local journalist in Mogadishu.
Analysts say that al-Shabaab's agenda to continue fighting is rooted in funneling aid from drought-stricken Somalis to their own coffers.
"Where there is no peace, there is no protection. Can you imagine how distressed drought-victim feels when they hear gunfire in the IDP camp, the place that is supposed to be safe?" asked the journalist.