UPDATE
Up to 10 Dead Amid Looting of Aid in Mogadishu
Government Forces Open Fire as They Loot, Businessmen Steal 8 Trucks of Food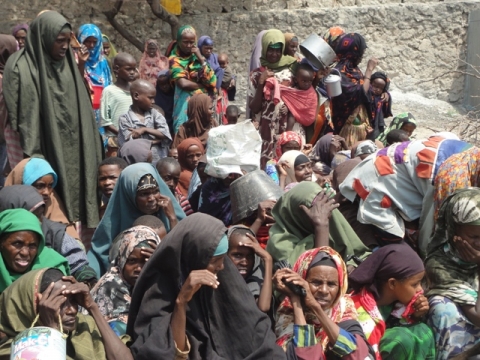 UPDATE:The number of victims has been raised from seven to ten.
Up to ten people died and several others were injured when government troops opened fire on internally displaced people (IDPs) trying to protect an aid shipment arriving at the Badbaado camp, located on the outskirts of Mogadishu in Dharkenley district, witnesses said.
"When the humanitarian aid was brought, the TFG troops tried to loot it," one witness told Somalia Report. "The residents in that camp immediately responded and tried to protect the aid, which was meant for them, but they were fired on and more than seven people were killed."
Tens of thousands have flocked to Mogadishu in the last months, fleeing drought and famine across the country.
A Transitional Federal Government (TFG) official said an investigation was ongoing, while security forces captured some of soldiers trying to sell earlier looted aid near the KM4 junction.
A spokesman for the World Food Programme, David Orr, confirmed that there had been an incident during a delivery of aid. He told Reuters news agency that food distribution went well for two hours after getting underway early in the morning before the trouble started.
"By all accounts, it got out of hand. It got a bit chaotic and looting of the food started," he said. "We've heard reports of fighting breaking out."
IDPs Flee Camp
Locals told Somalia Report that the camp, which had held at least 4,500 families, mainly from the Rahweyn clan and from Bay and Bakool regions, had now emptied out.
"I saw a lot of people leaving Badbaado Camp," a resident of the area said. "Less than 20 people now remain in the camp."
Somalia Report independently confirmed that more than four hundred IDPs have moved to Hamar-Weyne Market and near police posts for fear of being killed in the confrontations.
The IDPs called on the TFG to bring in African Union peacekeeping forces to protect the camp since they no longer have faith in the TFG forces, which they now call 'bandits'.
''They dress in military uniforms but they are a bunch of heavily armed illiterate bandits,'' said Halane, an IDP in Badbaado camp.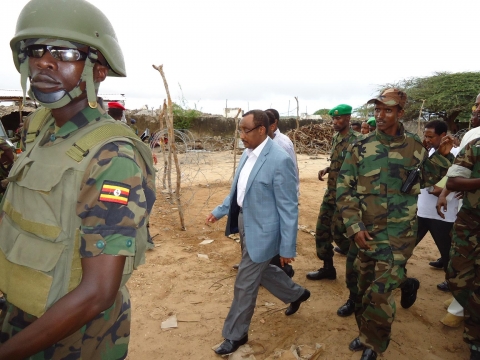 Premier Calls for Investigation
Prime Minister Abdiweli Mohamed Ali visited the camp today, and said changes were necessary.
"We are going to change the administration of Badbaado camp as soon as possible. We will investigate the case as soon as possible and bring the criminals to justice," he said.
PM Abdiweli also claimed much of the food is now safe.
"Most of the looted food is back in the hands of the government. We cannot accept such horrific news on looting of food intended for people dying of hunger," he said.
Businessmen Stealing Aid
Police Spokesman Abdullahi Hassan Barise said his bodyguards have information that eight truckloads of food intended for IDPs in Mogadishu were also diverted after businessmen made secret deals with the drivers.
"We seized two of the eight trucks. They are loaded with aid supplies from Kuwait intended to be delivered to the hungry people. Businesses made deals with the truck drivers and other local food distributors to make money from the relief supplies," he said.
"The two trucks were carrying oil and rice," he added. "The drivers said they were trying to go to Howl-wadaag district claiming there are needy people there, but we confirmed that there are no drought-affected people in Howl-wadaag."
Mogadishu's mayor has been among officials who have recently said that looting and corruption is on the increase recently, as aid agencies step up their efforts.
Some 2.8 million Somalis are in need of urgent aid, but only 20% of them are being reached, according to the UN.