UN Warns Somalia Famine to Spread
Calls For Increased Donor Response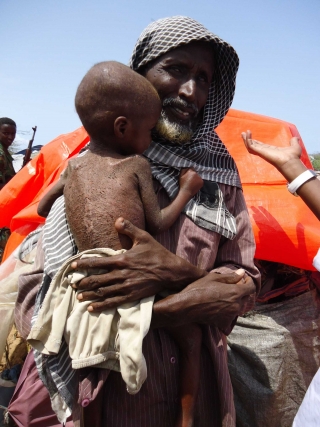 The famine in Somalia is set to spread to another five or six regions unless the international community steps up its response, the UN's humanitarian chief Valerie Amos said.
"Unless we see a massive increase in response, the famine will spread to five or six more regions," Amos told reporters in New York. "Tens of thousands of Somalis have already died and hundreds of thousands face starvation."
Two regions of southern Somalia - Southern Bakool and Lower Shabelle, both controlled by militant Islamist group al-Shabaab - have already been declared famine zones. Al-Shabaab has maintained its ban on certain major aid agencies – chiefly the World Food Programme, which is normally a major player in such crises.
However, other aid agencies have negotiated entry, often at a local level. The International Committee of the Red Cross (ICRC) said Monday it was distributing a total of 3,000 tons of food to 162,000 people in Gedo, Lower Juba, Middle Juba, Bay, Bakool, Lower Shabelle, Middle Shabelle and Mogadishu.
"This operation demonstrates the ICRC's ability to deliver emergency aid directly to the people affected in southern Somalia," said Andrea Heath, the organization's economic security coordinator for Somalia. "But this distribution assists only a small percentage of those in need. More aid will be required to help the population bridge the gap until the next harvest in December."
Individual nations, such as Kuwait, have also responded, sending aid to Mogadishu, and other groups such as Action Against Hunger (ACF) and UNICEF are active in al-Shabaab territory.
Amos said the drought was the worst in 60 years, and that $1.6 billion dollars was identified last year as needed to address the drought across the region. As of last week, some $1 billion had been raised.
"It is not enough," Amos said. "But neither was the crisis ignored as some have suggested. And even as we ask ourselves some important questions we can't allow those to distract from the task at hand. We need to deal with the here and now as well as with the longer term."