Relief Aid, Teams Arrive in Mogadishu
Kuwait Supplies and South African NGO Aim to Assist Starving Somalis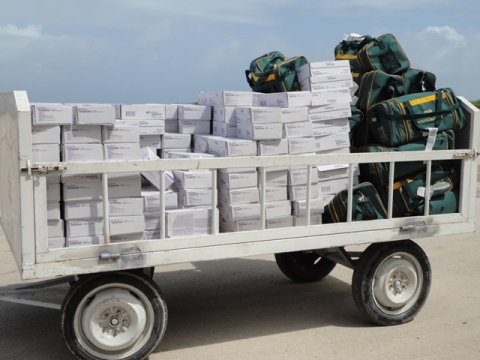 In its largest relief effort to date, the Kuwait government has airlifted and shipped supplies to Somalia's citizens suffering from the region's worst drought and famine in the past sixty years.
The aid includes powdered milk, biscuits, dates, polythene paper bags, and tents to be delivered to internally displaced people (IDPs) living on the outskirts of the Somali capital, Mogadishu.
The sixth Kuwait-owned plane landed in Mogadishu today loaded with 12 tonnes of relief aid that was issued by the king of Kuwait as a Ramadan gift to the IDPs. The supplies were channeled through the Kuwait Red Crescent.
The aid was welcomed by the Mogadishu Mayor Mohamud Ahmed Noor Tarsan who praised the Kuwait government for the generous assistance they have shown to Somalia.
''Kuwait has shown the real nature of assistance and we thank them as a government for hearing our plea,'' Tarsan told Somalia Report.
''Kuwait, Qatar, and the United Arab Emirates are the Arab countries have brought in massive relief aid to counter the spread of the deadly drought that has had a heavy toll on the human population in Mogadishu but also in the vast regions of Somalia,'' Tarsan added.
Kuwait Red Crescent officials said that the king and the people of Kuwait were fully behind the people of Somalia and pledged to assist more until Somalia situation normalizes.
In addition to the six planes, Kuwait also sent a ship with rice, oil and non-food items, which docked at the Mogadishu seaport.
South African based humanitarian team reaches Mogadishu
Elsewhere a South African based non-governmental organization (NGO), the Gift of the Givers Foundation, arrived in Mogadishu with a 19 person medical team, and accompanied by 16 foreign journalists.
Imtiaz Sooliman, the founder and head of the NGO, told Somalia Report that they are here to answer the 'cries of despair' they heard from the Somali people.
''We are here as a team ready to assist our fellow African brothers who need us now and we shall stand by them until they get through this,'' Imtiaz Sooliman told Somalia Report.
''The team will stay here in Mogadishu for one year and assist the IDPs in the various IDP camps located in the government controlled side of Mogadishu,'' said the founder.
Asked by Somalia Report about the deteriorating situation in Somalia and the slow Africa response, Imtiaz said that Somalia need not rely on the international community but more importantly on the African countries that assist each other at all times.
''This is an African crisis and Africa alone can counter it. Let us not look further but assist our fellow Somali brothers since they need us now more than ever before,'' Imtiaz added.
Gift of the Givers Foundation, an NGO based in South Africa, also brought six tonnes of relief aid, most of it medicine, and has promised three more planes loaded with 35 tonnes of relief food donated by the generous people of the Republic of South Africa.