The Future for Somalia's Kids: Violence, Famine
Child Says Recruited by Al-Shabaab and TFG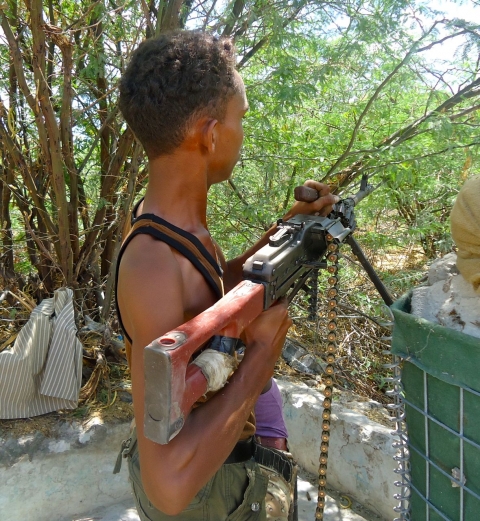 Mohamed Ali*, a 14-year-old in Mogadishu, is among thousands of Somali children facing lawlessness, famine and violence in a country that has been at war for over two decades. Mohamed Ali's father died six years ago and his mother lives in a camp for internally displaced people in Mogadishu. As an only child, it falls on his shoulders to try and support her and feed himself while trying to stay alive in the world's most dangerous city.
Mohamed spoke to Somalia Report about his experiences as a child soldier and his difficult daily routine living on the streets of Somalia's capital where he faces regular fighting among other street children, searches for food, and dodges recruitment by Transitional Federal Government (TFG) and African Union (AMISOM) forces, as well as daily gunfire between the forces battling al-Shabaab insurgents in the capital.
During his daily quest to support his mother, he has twice been abducted by fighters looking to bolster their forces by recruiting child soldiers.
"Once I was abducted to fight for al-Shabaab and again by the government soldiers to fight for them," said Mohamed who managed to escape the training camps of both sides.
"Al-Shabaab offered me a mobile telephone and US$30 for the two months I was in the training camp before I defected," said the teenager.
Later he was taken into a government detention center and interrogated for being an al-Shabaab fighter. Once they discovered he was a child and had been forcibly recruited, the TFG forces asked him to join their side.
"I was a good trainee for al-Shabaab. They gave me an AK-47 assault rifle, but it was heavy and a bit larger than me," said Mohamed. He explained that he fought on several different frontlines and would often see other children of the same age who could fight as fiercely as adults.
Al-Shabaab often use children on the frontlines for a variety of tasks, including assembling explosives. According to Mohamed, children were recruited to throw hand grenades.
"Children also do special missions such as spying either for the insurgents or the government," said Mohamed who has managed to escape the TFG forces. "Defecting from the TFG is easier than al-Shabaab, which has strict surveillance on their recruited soldiers."
Al-Shabaab officials refused to comment on the allegations after our correspondent tried to ask them about the child soldiering and the recent report by Amnesty International indicating that al-Shabaab has increased its forced recruitment of children as young as nine into their forces. Amnesty also reported that girls are recruited to cook and clean or forced to marry al-Shabaab members.
"Children my age and younger lack a livelihood and cannot go to school. There is no future for the children," complained Mohamed.
Somalia's TFG claims that they do not use child soldiers but, according to Mohamed, they do. The Somali president ordered an investigation into these allegations.
"We do not use children to fight for us and child soldering is prohibited in the Somali army," said Abdikadir Sheikh Ali, Commander of the Somali Armed forces in a broadcast speech at a government-controlled Television in Mogadishu.
Somalia Report contacted Abdikarim Dhego-badan, the Chief of Staff of the Somali Armed Forces who vehemently denied the allegations.
"We have a process in our recruitment and children are not allowed to be recruited as soldiers," he said. "Sometimes we hear this from the media and it is not true. Our stance on the issue is clear, we do not recruit children," he said.
There are no accurate statistics on the number of the children living on the streets of the capital, but Denise Shepherd-Johnson, a spokesman for UNICEF in Somalia, said that the office is extremely concerned about the dire situation of the children in the country. The last figure of the street children comes from UNICEF in 2005 and at that point it was 2,000.
For Mohamed, he is taking his life in own hands and hopes to avoid more fighting. Today he works at a car wash in Hamar Weyne district, and is enrolled in school.
"I do not want to fight any more. Now I am finally starting to learn by going to private school at night," said Mohamed.
*Mohamed Ali is not his real name and it was used for anonymity for his safety.