List of Relief Agencies Banned By Al-Shabaab
Major Famine Relief Agencies Listed By Group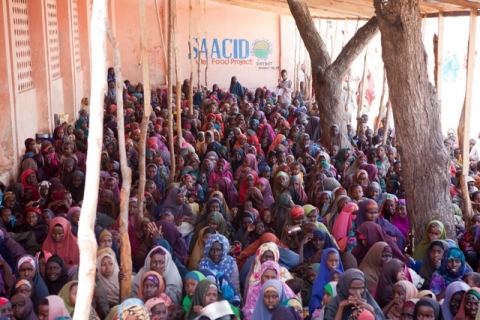 After requests to clarify al-Shabaab's stance on NGO and relief inside Somalia, the group provided Somalia Report with a list of NGOs they banned from conducting operations. A quick scan of the list confirms that it is essentially the "heavy lifters" in the region including groups the UN, international charities and a smattering of Christian groups that have a well-founded reputation for quick and efficient reaction to crises.
This creates a very similar situation to the 1998 drought in Afghanistan, when the Taliban began to harass and threaten western NGOs (including the UN) to direct the millions of dollars they received directly to Taliban coffers. Al-Shabaab's decision to deny aid to Somalis is partly because of the groups' clearly stated religious and anti-government affiliation. Some of it is because some of these groups simply will not pay the extortion demands and some is based on the absolute illegality of giving funds to a recognized terrorist group.
It is customary for aid groups and local NGOs to work directly with regional powerbrokers including hiring gunmen, paying transit or road tax to checkpoint czars, and if needed looking the other way as large portions of their relief supplies vanish into warlord's warehouses or pilfering mobs.
In the case of the Taliban in the late 80's, the UN fought back by simply shining a harsh light on the Islamic militia's brutal methods and misogynist agenda. The stories, films and photos then supported the logic of retribution and backlash after 9/11.
In the wake of recent targeted strikes, the Islamic group cites "spying" as their main concern, but al-Shabaab also fully understands that the more access and scrutiny they fall under, the more tenuous their already slippery grip on power in southern Somalia will become.
On July 6, al-Shabaab's spokesman Sheikh Ali Mohamud Rage said that they were forming a committee to coordinate aid and that "muslims or non-muslims" could have access to the areas they controlled, sparking suspicion among the NGO community. Then on Thursday, the same spokesperson caused confusion by telling a local radio station that the previous bans from 2009 and 2010 were still in effect. He also challenged the recent declaration of famine.
"We say is totally, 100% wrong and it is baseless propaganda," he said. "Yes there is drought, but the conditions are not as bad as they say. They have another objective and it wouldn't surprise us if they were politicizing the situation."
A member of a major aid organization called the ban "frustrating" but indicated that behind the scenes negotiations are taking place to overcome the most recent political posturing by al Shabaab and bring relief to desperate Somalis within areas under their control.
(EDITOR'S NOTE: We have removed the list of banned organizations until we receive further clarification from al-Shabaab. The list included some organizations that still operate in al-Shabaab areas and others that stopped working voluntarily, either permanently or temporarily. Somalia Report apologizes for this error, and will come back with correct information when we get it.)
Al-Shabaab has an office with the impressive name of "Harakat Al-Shabaab Al-Mujahideen Department of Political Affairs and Regional Administrations". They issue written and verbal proclamations on activities, primarily in the Bay and Bakool regions, where al-Shabaab has control. The regulating body was created on July 20, 2009. Its first act was to ban some of the best known humanitarian relief agencies in the world:
"1. This is the official announcement of the establishment of The Office for Supervising the Affairs of Foreign Agencies. This office has been set up to coordinate all dealings with NGOs and foreign agencies and to fully monitor them.

It is mandatory upon all NGOs and foreign agencies operating in Somalia to immediately contact The Office for Supervising the Affairs of Foreign Agencies in their area. They must contact the Administration of the area that they are currently operating in and they will give out the address for the new office. The NGOs and foreign agencies will be informed of the conditions and restrictions on their work and on how their work may continue. Any NGO or foreign agency found to be working with an agenda against the Somali Muslim population and/or against the establishment of an Islamic State will be immediately closed and dealt with according to the evidence found.

2. As of (20/7/2009), a number of NGOs and foreign agencies currently operating in Somalia will be completely closed down and considered enemies of Islam and Muslims. The current list is as follows:

1. UNDP 2. UNDSS 3. UNPOS

This decision was finally concluded after thorough research and due to an ongoing investigation into the actions and motives of many of the NGOs and foreign agencies currently in operation. The above foreign agencies have been found to be working against the benefits of the Somali Muslim population and against the establishment of an Islamic State in Somalia. Some of the findings include evidence of training and support for the apostate goverment and the training of its troops. The research also found material support being given to the apostate militias in the border regions in hopes of destabilizing the regions and disrupting the safety and security that the Islamic administrations of those regions have accomplished by the permission of Allah. On top of that, it has not been hidden that over $250 million dollars have been gathered in Brussels on April 23, 2009 from various infidel countries and donors for the crusader Amisom troops to continue their mission of oppression and massacre of the Somali Muslim people.

Previously, CARE and IMC, two American agencies, were closed down as evidence was found of participation in activities against Islam. Proof was uncovered of spying for and aiding the intelligence agencies of the enemies of Islam. In addition, as it is well known, those agencies assisted in the assassination of Sheikh Maalim Adam 'Aayro.

Allah is our Protector and our Sustainer. Department of Political Affairs and Regional Administrations
In November, the group decided to issue an 11-point directive to aid agencies, which included not promoting democracy, laying off all females, not taking Sundays off and removing logos from vehicles. They also demanded that the WFP purchase food from local farmers.
In December of the same year, the islamic group banned UN Mine Action, insisting that they were "disrupting the peace and justice by bribing various community elders and inciting them to rebel against the Islamic administration," according to a press release. "Furthermore, they have been surveying and sign-posting some of the most vital and sensitive areas under the control of the Mujahideen."
In March of 2010, al-Shabaab banned UN World Food Programme (WFP) operations in Somalia. Their logic was that the aid deliveries damaged local farmers by preventing them from selling their crops at a fair price and that some of the food was past its expiry date. The British government declared al-Shabaab a terrorist group on March 1, 2010.
In August 2010, al-Shabaab banned three Christian aid groups from working in their areas; World Vision, ADRA Adventist Development and Relief Agency and Diakonia. According to al Shabaab: "The aforementioned organizations have been found to be actively propagating Christianity in this Muslim country." Later Horn Relief was also banned.
Al-Shabaab insisted that the organizations were "acting as missionaries under the guise of humanitarian work", and had "corrupted ideologies in order to taint the pure creed of the Muslims in Somalia".
"Along with their missionary work, the proliferation of corruption and indecency has become prevalent as a result of their presence," the group added.
There is some logic in some of the bans and others follow a familiar orthodox whabbaist approach of simply banning things that seem Western or different. Their form of arbitration and justice is sometimes appreciated but, heavy handed in Somalia.
Other al-Shabaab bans in addition to traditional sharia include: selling khat;

mixed sexes handshaking, walking together or chatting in public;

music containing lyrics;

BBC news broadcasts;

brassieres;

ringtones on phones;

making animal sacrifices to the dead;

science and english in school;

ululation;

dancing at weddings;

folk dances;

playing or watching football;

games;

school bells (because they sound like church bells);

music on the radio to introduce segments.
Although al-Shabaab's spokesperson spoke with conviction, he did not reveal that the need for aid has caused serious problems within the al-Shabaab leadership.
Muktar Abdirahman Godane is an Isaaq from Hargeisa who opposes the influx of aid. His logic is that the influx of outsiders will provide actionable intelligence for air strikes.
Sheikh Muktar Robow "Abu-Mansoor" is Rahanweyn from Baidoa, whose clan is amongst those most directly affected. Robow was able to convince Godane to allow in emergency air shipments by UNICEF to Baidoa. According to the Ethiopian Ministry of Foreign Affairs, Godane commandeered the shipment and confiscated the food and medicine. Robow then sent his men to liberate the goods, forcing Abu-Mansoor Al-Ameriki to set up negotiatiosn that lasted two days. The result was that Sheikh Muktar removed his group to the west of the Baidoa and "Godane" decamped to the opposite side.
However, UNICEF says this version of events is untrue. According to the agency, the aid was picked up by its local staff, taken to its warehouses, and then distributed among the community.
If the Ethiopian version of events is true, it is not the first time fault lines have appeared, and it won't be the last. But al-Shabaab is risking what little popular support it has and literally forcing some villages to threaten them with violence if they do not allow the aid to arrive.