Red Cross Gets Aid Into Al-Shabaab Area
Aid Agency Says More to Follow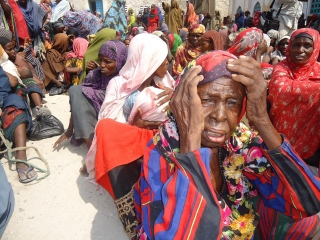 The International Committee of the Red Cross (ICRC) has successfully delivered humanitarian aid to areas under the control of Islamist militia group al-Shabaab, the aid group told AFP news agency on Sunday.
Somalia is in the grip of a devastating drought that has led the UN to declare two areas controlled by al-Shabaab as famine zones. The group had banned most foreign aid agencies from working in its territory.
"The ICRC on Saturday distributed 400 tonnes of food aid in Gedo province for 4,000 families or about 24,000 people," ICRC spokesman Yves Van Loo told the French news agency in the Kenyan capital Naiorbi. "The distribution look place in the Bardera district and passed without incident, with the knowledge of the authorities and the recipients."
According to the spokesman, each family received 100 kilograms of food, and more such deliveries will take place in the coming days.
Al-Shabaab recently announced it would lift the ban on aid agencies, but this week a spokesman for the group said that agencies previously banned, such as the World Food Programme, would not be allowed to return. There is a difference of opinion within the group, which has never been a monolithic organization, over whether to let Christian aid groups operate.
UNICEF has already delivered aid to the insurgent-controlled town of Baidoa, and there are hopes in the aid world that more deals can be struck with local al-Shabaab administrations, although agencies are concerned for the safety of their staff given the apparent discord within the Islamist group