UAE Funds Trauma Clinic in Mogadishu
UAE Also Funds Water Drilling Truck, Begins Project in Villa Somalia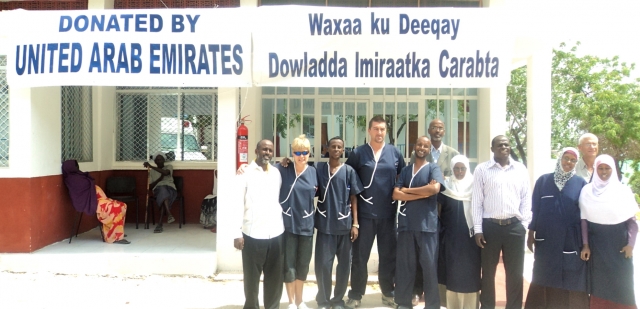 In the rush to help Somalis suffering from violence and drought, many aid programs focus on immediate needs. Bottled water, food and short term medical care, however, do not solve the bigger problems of the region. In our continuing look at NGOs 'doing good' in Somalia, we visited an unusual project in the heart of Mogadishu.
The United Arab Emirates recently funded a trauma clinic and a truck mounted with a drill rig to dig water wells. Both projects are located within Mogadishu's presidential compound, Villa Somalia. Far from the crowded camps in Kenya and Mogadishu, the project is designed to start at the center and provide medical support and clean water in order to bring the people towards the government instead of pushing them away.
Trauma Clinic Treats Soldiers and Public
Since it opened in February 2011, the clinic has seen not only an increase the number of drought affected children and elderly seeking care but has also been inundated with civilians suffering from gunshot and shrapnel injuries, festering wounds and difficult infections.
Dr. Collins Owili, the director of the clinic, told Somalia Report that they offer emergency and primary health care, including surgeries, to anyone.
"We treat all kinds of injures including those sustained by soldiers and mortar victims. We also treat children with malaria, diarrhea and malnourishment. We'll also treat mothers and the elderly," said the doctor. "In a typical day, we will treat 50-60 patients with a variety of issues."
"The condition of mothers and children is getting worse. In the last five days alone we assisted more and more children suffering from diarrhea and malaria," Dr. Owili added.
The project manager in Mogadishu, Francois Fourie, said that the clinic does not turn anyone away whether they are soldiers or local residents.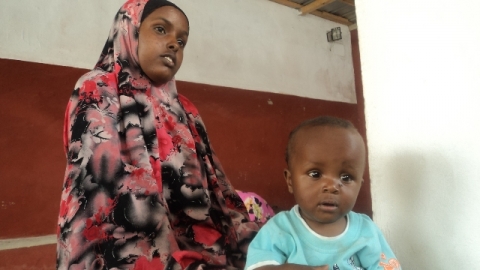 Fowziyo Mohamed, a 25 year old mother, and her 10 month old son came to the clinic when they had nowhere else to go.
"I heard their doctors would treat us for free and pay for any medicine we might need. I'm expecting that they will help my son and I will be helped. He is always crying, has a fever in the night time and is always scratching," said Fowziyo.
The clinic also includes a busy morgue which allows relatives to identify the body. Once it is identified, the body is then cleaned and taken away for burial. By contrast there are dozens of AMISOM soldiers who are buried in makeshift graves a few hundred yards away.
Clinic Operates Despite Risks
Although the clinic is in a secure area of Mogadishu, the 12 member team of doctors, nurses and volunteers comes under constant gunfire as AMISOM troops up above and a few meters behind the clinic battle it out with al-Shabaab militants.
Mr. Fourie told Somalia Report that mortars hit Villa Somalia and stray bullets routinely pass through the clinic. He showed our correspondent a place close to the clinic where a mortar shelled.
"Despite the risks, our staff will promote the humanitarian access for patients," he said.
According to the manager, the clinic also helps AMISOM troops if their own medical centers are too busy. AMISOM and the United Nations each have their own clinics within the compound but are not open to the public.
UAE Water Project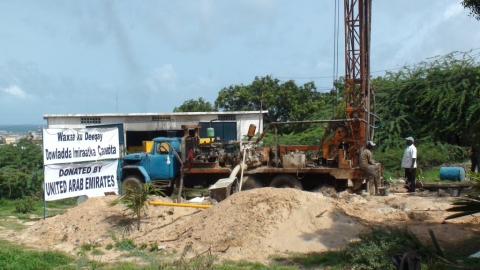 Somalia's drought is not only hitting distant regions. Villa Somalia, the nerve center of the TFG, UN and AMISOM, also suffers from a major drop in water levels caused by lack of rain.
After Somalia's president complained about the lack of clean water in the compound, a UAE-funded drill rig got to work and began drilling for wells within Villa Somalia.
Ismail Nur Afrah, a deputy engineer of the project, said they had to dig more than 50 meters to find water.
Once the project within Villa Somalia is completed within the week, the portable drill rig will move to camps for internally displaced people around Mogadishu to provide clean water to drought affected Somalis.