Lone Gunman Burns IDP Camp in Bosaso
Over 50 Families Homeless After Attack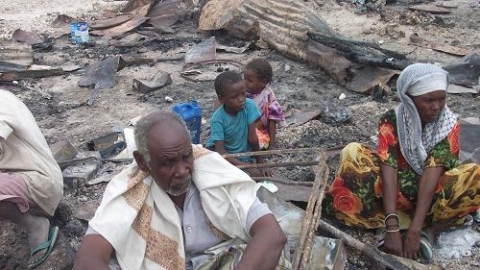 Over 50 internally displaced families in Boqolka-buush camp of Bosaso are homeless today after their make-shift homes were burned down by a gunman at dawn.
Witnesses told Somalia Report that a man with pistol arrived the camp and set it on fire using petroleum. The fire quickly spread due to the fuel, monsoon winds, and materials used to build the homes, mainly wood and fabric.
The gunman was detained by the security forces while trying to escape. Locals said the man is a known drug addict from the area; however, Somalia Report has not yet confirmed this.
Bosaso residents crowded the area to help the victims while officials and UN humanitarian agencies arrived to assess the damage caused by the fire.
Although the gunman's motive for the attack is unknown, some of the residents accused the IDPs of causing the fire themselves in order to seek further aid from the UN, NGOs and the Bosaso community.