Al-Shabaab Says No Aid Conditions
Official Says Foreign Aid Welcome, But Some Say Payments Being Made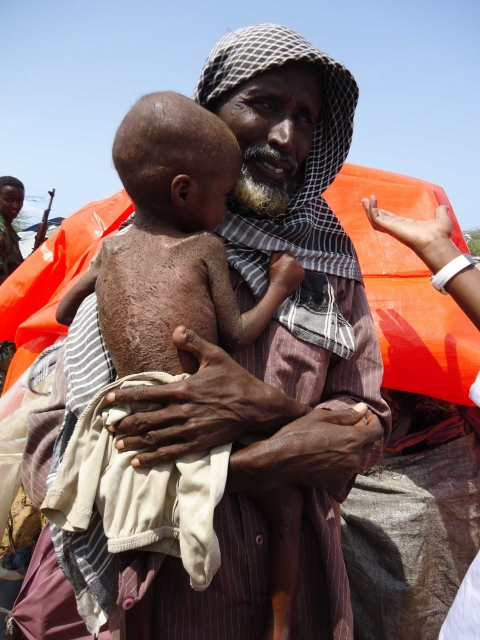 International aid agencies can enter any area controlled by militant Islamist group al-Shabaab without conditions, a member of the group's drought committee said – although aid workers say some agencies now operating in al-Shabaab areas are being forced to pay.
Al-Shabaab, which has been fighting to oust the Western-backed government since 2007, recently lifted a long-standing ban on international aid agencies as the world's attention turns to the growing drought-induced crisis in Somalia. The UN on Wednesday declared famine conditions exist in two areas of the Horn of Africa nation.
A top al-Shabaab leader on Wednesday issued another public appeal to the international community to deliver aid, accusing them of not responding quickly enough to its decision to lift the ban. Some agencies immediately begin delivering aid, but others are seeking guarantees of security for their staff members – a move seen as understandable given the past targeting of aid workers for killing and kidnap by the insurgent group.
"We are ready to welcome any agencies who are willing to help these drought-affected people," Sheikh Ahmed Abdisalaam, who sits on al-Shabaab's drought committee, told Somalia Report. "They can come to Bay, Bakool, Lower Juba, Middle Juba and all Mujahideen-controlled areas."
"There are agencies that contacted us, and we have told them to come without any sort of condition," he added. "Only UNICEF responded to our plea, and we are urging other agencies to help us with immediate aid."
However, an aid worker in Mogadishu, speaking on condition of anonymity, told Somalia Report that agencies were expected to pay a monthly fee and also hand over authority for aid distribution to the insurgents.
"The agencies working in those areas controlled by al-Shabaab pay between $5000 and $10,000 per month, and al-Shabaab has full control of aid distribution," he said.
The aid worker named five mainly Muslim agencies, the names of which have been withheld for security reasons, which are paying money to operate in al-Shabaab areas.
Al-Shabaab has set up its own camps for displaced people, but one doctor who visited a camp in Lower Shabelle said that little help was on offer for the people there.
"We have seen in the camps what no one can believe; In the nine hours we were there, seven children died," Dr Abdi Ibrahim Jia told Somalia Report.
A blistering drought, which has also affected the wider region, has caused mass displacement this year, with the process gaining pace in recent months. Hundreds of thousands have preferred to take their chances amid the bullets of Mogadishu or in refugee camps in neighboring countries such as Kenya as their livestock die and wells dry up.
Mark Bowden, the Humanitarian Coordinator for Somalia, said malnutrition rates are currently the highest in the world, with peaks of 50 per cent in certain areas of southern Somalia. Tens of thousands, many of them children, have died of malnutrition-related causes over the last few months, he said. Some 3.7 million, almost half the Somali population, are now in crisis, according to the latest UN figures.
Southern Bakool and Lower Shabelle, both under the control of al-Shabaab, were declared as official famine zones.
Officials from the UN, African Union and Muslim nations have been piling into Mogadishu to evaluate the situation in government-controlled areas, and pledges of cash and aid are flooding in. However, many more are expected to die before enough humanitarian aid can be pumped into all the areas that need it.