UN Declares Famine in Somalia
Tens of Thousands Dead Due to Malnutrition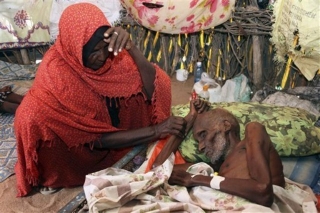 The United Nations on Wednesday took the expected step of declaring a famine in the Somali regions of Southern Bakool and Lower Shabelle, and warned that famine conditions would spread across all of southern Somalia without urgent action.
A blistering drought, which has also affected the wider region, has caused mass displacement this year, with the process gaining pace in recent months. Hundreds of thousands have preferred to take their chances amid the bullets of Mogadishu or in refugee camps in neighboring countries such as Kenya as their livestock die and wells dry up.
Mark Bowden, the Humanitarian Coordinator for Somalia, said malnutrition rates are currently the highest in the world, with peaks of 50 per cent in certain areas of southern Somalia. Tens of thousands, many of them children, have died of malnutrition-related causes over the last few months, he said. Some 3.7 million, almost half the Somali population, are now in crisis, according to the latest UN figures.
"If we don't act now, famine will spread to all eight regions of southern Somalia within two months, due to poor harvests and infectious disease outbreaks," said Mr. Bowden. "We still do not have all the resources for food, clean water, shelter and health services to save the lives of hundreds of thousands of Somalis in desperate need."
Both Southern Bakool and Lower Shabelle are under the control of militant Islamist group, which recently lifted a ban on foreign aid agencies working in areas under its control. The ban is widely blamed for worsening the situation, although small-scale aid deliveries have commenced in certain areas and negotiations are underway to allow foreign aid workers to deal with the crisis in other al-Shabaab territories.
The UN Office for the Coordination of Humanitarian Affairs, which Bowden heads up, says famine is declared when acute malnutrition rates among children exceed 30 per cent, more than 2 people per 10,000 die per day, and people are not able to access food and other basic necessities.
"The UN declaration confirms the scale of this devastating crisis witnessed by our teams on the ground over the past weeks," Jens Oppermann, Country Director for Action Against Hunger (ACF) in Somalia, said. "The crisis will only grow in magnitude and severity unless immediate funding is made available and measures are taken to enable aid agencies on the ground to further scale up relief efforts."
ACF said it was the worst crisis since 1992, when 300,000 people died during a famine in Somalia.
Fundraising has proven difficult
Fundraising appeals for drought in the region have rarely hit their targets over the last few years, due to the global downturn and donor fatigue, but aid agencies believe the magnitude of the famine in Somalia will mobilize governments and individuals to open their wallets.
In response to the famine announcement, US Secretary of State Hillary Rodham Clinton announced an extra $28 million dollars in aid for Somalia and Somali refugees in Kenya, adding to over $383 million already spent in the Horn of Africa this year.
Clinton also criticized al-Shabaab for worsening the crisis, and called on other donors to follow suit and increase assistance.
"In Somalia, twenty years without a central government and the relentless terrorism by al-Shabaab against its own people has turned an already severe situation into a dire one that is expected to continue to decline," she said. "All donors in the international community must commit to taking additional steps to tackle both immediate assistance needs and strengthen capacity in the region to respond to future crises."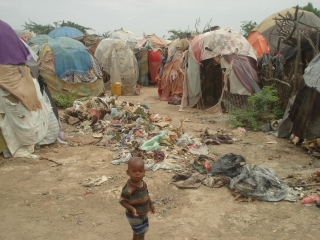 Camps springing up everywhere
While foreign journalists are parachuting into the safety of the Dadaab refugee complex in north-eastern Kenya, where almost 400,000 Somalis are trying to squeeze into a complex designed for 90,000, dozens of camps, large and small, are springing up in and around Mogadishu and other towns.
Somalia Report visited one such small camp in Mogadishu's Bondhere district. Some 2,000 people have arrived in recent weeks, and their makeshift shelters of plastic sheeting and scraps of fabric are dotted amongst bombed-out government buildings.
Rahmo Ibrahim Madey, 29, walked with her three children from an al-Shabaab-controlled area in the Bakol region. Her one-year-old daughter died, Fadumo, died 30 kilometers from the camp, and as Somalia Report spoke to her, the life of her four-year-old daughter ebbed away in front of our correspondent's eyes despite the few spoonfuls of begged porridge the mother tried to spoon into her.
"Fadumo died in front of my naked eyes and Batulo passed the same way," she said between the wracking sobs that engulfed her body.
The displaced in Mogadishu face the added hazard of unexploded munitions left behind by the shifting front lines. As volunteers hacked at bushes with axes at Bondhere to get sticks to built shelters, one of them triggered an explosive device.
"We are stuck between the pestle and mortar," Muse Ahmed told Somalia Report at the site of the explosion.
The situation is similar in Beledweyne, in Hiran District, where internally displaced have formed around 20 makeshift camps. So far they have received no help at all from the international aid community or Somali authorities, and fear that they will be bypassed as the help heads for the easy targets of Dadaab and the capital.
Ebla Abdi Jesow, who lives in one of the camps, says they have been neglected.
"We have been staying here for more than two months; we have almost nothing to eat and have not received help from anyone," she told Somalia Report.
Despite the poor conditions, many more arrive each day, only to find that living conditions are worse than in their villages, and that they have to resort to begging in the town to survive.