Amnesty Highlights Children's Plight in Somalia
Forced Recruitment, Death and No Education Face Youth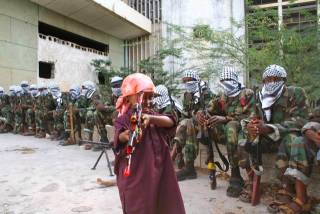 Somali children face recruitment as child soldiers, death, injury and lack of access to education in face of ongoing conflict, campaigning group Amnesty International said in a report released Wednesday.
The report, In the line of fire: Somalia's children under attack, largely blames militant Islamist group al-Shabaab for the plight of youth in the war-torn country.
"Somalia is not only a humanitarian crisis: it is a human rights crisis and a children's crisis," said Michelle Kagari, Amnesty International's Deputy Director for Africa.
"As a child in Somalia, you risk death all the time: you can be killed, recruited and sent to the frontline, punished by al-Shabab because you are caught listening to music or 'wearing the wrong clothes', be forced to fend for yourself because you have lost your parents or even die because you don't have access to adequate medical care."
Amnesty also blamed al-Shabaab for worsening the current drought-induced humanitarian crisis by denying foreign aid agencies access to areas under its control – a ban recently lifted by the group. Some agencies have begun delivering aid, and others are in negotiations for access.
Education has been hit by the destruction of school buildings, unrest, al-Shabaab restrictions on the right to education and recruitment by the insurgent group, Amnesty said.
"Al-Shabab came in one morning ... They said to the teachers that all of the children should move out of class. There was a car waiting outside and they forced the children in. One teacher was killed because he refused to obey. He was brave, he was the one who was standing up for the rights of the girls," a 13-year-old girl from Mogadishu told Amnesty researchers.
Children have been victims of flogging under al-Shabaab's strict interpretation of Sharia law, and have witnessed many rights abuses, leading to high levels of trauma, the campaigning group said.
Amnesty called on the international community to expand protection measures, as well as psychosocial support and education programmes.