Eastleigh Gathers to Help Somali Refugees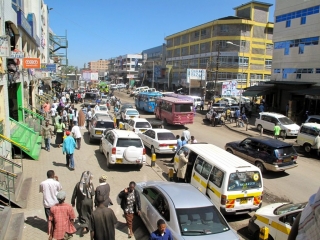 Following one of the worst droughts to hit Somalia in 60 years, international agencies and local NGOs have struggled to curb with the flow of thousand of refugees, crossing over the Kenya-Somali border.
Thousands of people have fled the war-torn Horn of African country to escape from starvation and the never-ending civil conflict in the southern and central Somalia to neighboring countries, including Kenya, Ethiopia and Djibouti.
According to the United Nations refugee agency, UNHCR, the Dabaab complex is now home to 400,000 refugees, where its original capacity was designed to host 90,000 people.
It is this crisis that has prompted the Muslim scholars based in Nairobi to act swiftly to respond to the desperate situation in the refugee camps.
Urge to help
Somali community elders and religious scholars in Nairobi spoke and organized tirelessly among their communities to urge the rich and the able to help their brothers dying in large numbers from hunger and heat in the Dadaab refugee complex in North Eastern Kenya.
Sheikh Mohamed Abdi Umal, one of the leading and respected scholars in Nairobi has focused his Friday sermons in the past few weeks to address the faithful to play their role in response to the catastrophic droughts in the region.
"We failed to respond the way we should regarding this catastrophe," he said.
He reminded the wealthy and the rich among the community to remember their past, difficult lives that they endured before Allah bestowed his mercy upon them.
"Many of us have faced the same problems in the past. Allah will examine us and everyone will be accountable for his or her own actions, and this is a test for our Iman (faith). We are all obliged to respond to this crisis," he added.
A committee consisting of business people, scholars and other intellectuals has been set up to work closely with the community, according to Shiekh Umal.
Responding to the call
Walking in the streets of Somali-populated neighborhood of Eastleigh in eastern Nairobi, one could spot determined faces of both young and old, willing to help with all they can afford. They have been donating everything from mattresses to clothes, utensils to dried dates and foodstuff.
"These are some of my clothes that I am taking to the mosque, where the committee for droughts will collect and deliver them to the Dadaab," said Ahmed Mohamed, carrying a sack of clothes.
Madrassas and mosques are temporarily being used as depots and are widely open to everyone willing to donate, as Somalia Report learned.
Fund-Rising
Mosques across Eastleigh and South C neighborhoods have seen well organized fund-raising gatherings in recent weeks and these will continue until enough money is raised.
Among those present in the fund-raisers include community leaders, religious scholars and business people. The functions are led by Sheikh Umal and Sheikh Mohamud Shible. So far, a handful of funds has been raised. This will be used to cater for the transport costs of delivering the donated clothes and foodstuffs to the camps, as well as to buy foods with high nutritional values for the infants who are said to be highly malnourished.
Warning of mismanagement
Speaking at one of the fund-raising gatherings, Sheikh Umal told the audience to be very careful of whom they deal with and warned not to give their hardly-earned money to those he said only take advantage of situations like this.
"There are people who take advantage of situations similar to this. They appear to be good people with good intentions but they have other evil intentions. Be careful to deal with these people," he said.
He also called upon leaders and those fighting for supremacy in Somalia to respect the sanctity of humanlife.
"I call upon those who are fighting for leadership, our people are dying of hunger and war. Who are you going to rule if everyone is dying or fleeing?" he asked.
The drought crisis in Somalia is widely blamed on the lack of rainfall in consecutive seasons coupled with the country's long standing civil war.