Feature
Expose the "Faux NGOs"
Help Us Find NGOs Who Do Not Deliver on Their Promises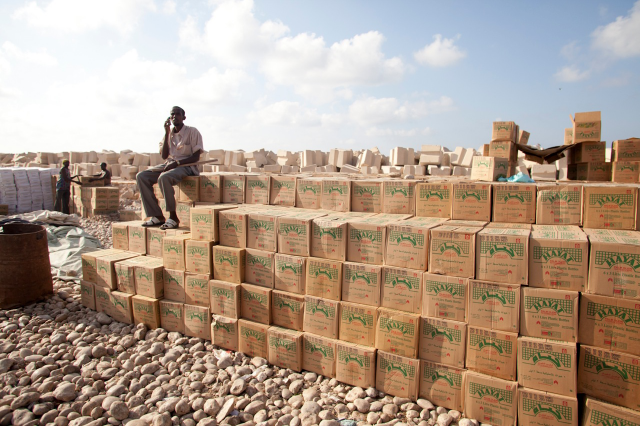 Conditions in Somalia over the last two decades have never been good, but a recent confluence of fighting, famine, drought and desperation have sent pastoralists, city dwellers and the normally self-sustaining Somalis into survival mode.
Due to violence, militant Islamist group al-Shabaab, and checkpoints, delivery of relief supplies in Mogadishu has been been the most difficult on earth. If the shipments survive pirates, they must then deal with port taxes, checkpoints, greedy local officials and a myriad of barriers to its ultimate destination. This system of corruption and theft of foreign aid is insidious, and was the major reason for the US military intervention in the early 90's.
Today the players may have changed, but the game is the same. There are individuals who prey on the supposedly tax- and duty-free foodstuffs to rob the Somali people of their lifeline. Aid is the singular lifeblood of much of Somalia and organizations like al-Shabaab now use the delivery or blocking of delivery as a weapon against the people it was destined for. To compound this, the business of aid, research, public benefit and even research has been infiltrated by people whose sole intention is to enrich themselves. Somaliland, pro-government militia Ahlu Sunnah Wal Jamaa (ASWJ) and other groups have made efforts to crack down and register NGOs to prevent fraud. At the same time al Shabaab extorts recognized bringers of aid simply as a cold hearted source of cash and then treats them as spies and interlopers. In all Somalia is a tough ugly world for those who bring hope.
Charity for Whom?
The UN has estimated it needs $300 million dollars within the next two months to deal with the famine. There is much criticism when desperate people see the UN whisking around in chauffeur-driven Toyota Land Cruisers, although Land Cruisers are often owned by warlords and criminals. But the UN is often the only game in town. Under the UN, and interwoven in any disaster, are the myriad of charities and NGOs who often carry out the legwork and hire the workers to get the goods and service to the people. Amongst them are also special interest advocacy groups pledged to spread the word of God, stop genital mutilations, save the seas and promote democracy, creating a crazy quilt work of charities. Most rely on donations and all hit the PR button hard during times of crisis, even though they will privately admit that by the time that money gets there the crisis is usually over.
So it is with the famine in Somalia hitting the news. Well-intentioned people shocked by statistics and images will turn to the internet to donate and help in any way they can. 3.7 million Somalis (almost half of the total population) are affected by the drought and in need of aid, according to UN figures. In the relief world, and by any measure, the crisis in Somalia is proportionally worse than the earthquake in Haiti (a third of the population or three million Haitians were affected by the earthquake). The difference is Google lists 488,000 hits for "Donations to Haiti" and only 208 listings for "Donations for Somalia". Even with 10 million affected in all of the Horn of Africa, and four out ten thousand children dying daily, you won't see Sean Penn in Mogadishu any time soon.
You will see all the familiar faces in Dadaab, Kenya though. The refugee camp concept can further exacerbate the situation. Because aid agencies can't push relief into Somalia they are focusing on supporting remote camps far away from Somalia and furthering the destructive process of gutting the social structure by pulling desperate people out of their homes and into Kenya. Far away from home the camps will become recruiting centers for idle angry youth and soul crushing prisons. Refugees will then have hopes of visa's and life in a new nation, their past lives abandoned.
All the while press offices facilitate high profile media reports focusing on dying children, desperate elders and scenes of heart wrenching misery. Millions of dollars in donations will begin to flow in from concerned diaspora, strangers and governments. How will you help? This is a personal choice. The closer to the ground your money gets the more impact is has. The more the money stays inside Somalia the more it allows people to stay in their homes and villages. But you must also accept the looser controls and pragmatic realities of supporting NGO's in a war zone.
If you donate to some of the blue chip NGO's you can expect a chunk to go towards overhead and fundraising. Canada has created a single donation point to add more impact. Other large groups may exploit Somalia's woes but will admit that it goes into a larger pot and may not specifically go to Somali emergency activities.
The larger the organization the more comfortable you should be about your donation being put to good use. You don't want to hear it but the chances are good that part of that money will end up in the pockets of al Shabaab, corrupt government officials and even for goods put up for sale at the local market with "Gift of the USA, Not for Sale" clearly marked on the sacks.
So how do you guard against people taking advantage of charity? Where should your compassion be directed? How best to respond?
Normally you would start by consulting a watchdog organization or government registrar. Just search on line and you will see plenty.
Seventy percent of domestic charities typically spend around 75% of the donated funds on programs. Most charity rating sites only cover large US-based groups. UK-based watchdogs do their best, but only if the charity provides the data for government scrutiny. By law, a charity must prove its tax-exempt status by registering and filing. Even a foreign charity or NGO must register with the local government to ensure compliance. Somalia attempts to do this in Mogadishu, but Somaliland and Puntland do a better job. Even if a charity fails to register, they must deal with local power brokers like militias. But we are talking about who is legitimate and what they actually do.
On the upper end of governmental agencies, we see large, well-funded organizations like the Danish and UK government-supported COMMUNITY-DRIVEN RECOVERY AND DEVELOPMENT (CDRD) in Somalia. They openly publish how-to manuals, financials, independent assessments, helpful information and data critical to understanding their operations. They work with other large NGOs and create media outreach, training and almost too much data. A donor can simply click to see where even expenditures of as little as $800 dollars go.
Non Governmental Agencies
Yes, large NGOs can be bloated, top-heavy leviathans with overpaid expats that populate the office space and bars of Nairobi, but who else will do the emotionally blistering work of saving lives in times of need? Groups like MSF are famous for pushing their volunteers to the front lines and you can find them in Mogadishu and the camps. Somalia is too dangerous for Merlin but can be found in Kenya. Many NGO's have been forced to pull their western staff out of Southern Somalia due to direct threats from al Shabaab.
That's why as you get closer to the center of the problem you find the local NGOs. Usually well-dressed, intelligent Somalis who have decided to stay behind, make a decent wage and coordinate the larger efforts of the Kenya-based NGOs and coordinators. We have provided a list below of legitimate groups working inside Somalia.
Somali NGOs like Bani'Adam with websites that list their office, mission and photo page are a good example. Bani'Adam Relief and Development offers an impressive list of services ranging from sanitation, to food delivery, to education with an earnest website that tries to communicate as much as it can. The Mogadishu-based NGO began in 1991 and its President Abdulaziz Maio Mohamed is a known entity in the relief business.
Many of the Somali NGOs do not publish their finances and the ability to determine their effectiveness requires an inordinate application of effort in remote and often hostile places. We encourage you to directly engage these NGO's via email, ask to see financials and inquire as to specifically where your donation will go.
But Bani' Adam Relief and Development answers to a board of directors and coordinates with other larger NGOs. It is questionable if these NGOs are more than sources of employment allowing local staff to act as representatives of larger NGOs based in Nairobi. Their annual report comes with a "Make Donation" on fire button and does not provide any financials or dollar figures. They do provide extensive listing of projects, photographs, partners and contact information. They are also part of UNOCHA's WASH (Water, Sanitation, Health) list and operate in the most dangerous and difficult parts of Mogadishu. They can be forgiven for typos, missing financials, and their urgent appeal for donations. You will find little media coverage of this industrious group of volunteers. It is up to the donor to ask for financials and determine if this charity is delivering good value.
Some NGOs are chameleon-like, blending and bending to suit the crisis. Media savvy NGOs like Ecoterra Intl have shape-shifted from internet eco-warriors, to land-locked maritime advocates, to piracy reporters and relying on outrage to drum up funds and sympathy. With pirates hijacking food shipments, poachers stealing tons of fish, Somalia fishermen unable to feed their families and general abuse of the unguarded oceans around the Horn Of Africa, what better time for a maritime and fisheries-based NGO to step up?
Logic would dictate that supporting a charity that can create self-sustaining jobs, deliver protein and protect clean water from Somalia's oceans and ecosystem would be a good bet? At first glance based on their impressive media profile, Ecoterra as an NGO focused on maritime protection and ecological sustainability should be the perfect conduit for funds from an concerned public.
The problem is that Ecoterra, despite their high profile, and their more than two decades of operation from Nairobi, have yet to provide a single tangible shred of evidence of their cause but still use their high profile to canvass for donations and support.
Julian Bauer of Ecoterra International maintains an internet presence as ECOP Marine, no clear documentation, no history of projects, but requests for donations: "Our engagement is pro bono, but like everyone we too have to pay the costs for communications, transport, actions and local staff."
Photo of Bauer below is credited to Laasqoray.org.

Bauer has managed to operate his "maritime protection" NGO for over a decade and is not registered in Kenya or Somalia. Somalia Report's Andrew Mwangura worked closely with Mr. Bauer from 2003 to 2010 in an attempt to better the condition of seaman but received nothing in compensation, while noticing that Mr. Bauer was using the information he provided to gain funding from European sources. In the 8 or 9 years that Andrew and his network provided information to Mr. Bauer, he never saw an office in Nairobi for Ecoterra, but met Mr. Bauer "mainly in west side coffee houses and in 5-star hotels." Andrew is now our Maritime Editor.
Although Bauer is well-known around town and a prolific creator of internet content, for someone as adept in written output, his background is unusually sparse. There is not one single bio or photo of Bauer on any of his websites. There are no photographs of projects. There is no office, no employee pictures not even a clear indication who the author of the hundreds of reports is. For someone who calls himself Professor, there is a notable lack of academic rigor.
As best Somalia Report can tell, Bauer is native of Germany, he is said to have taught in Mogadishu at the now defunct university in the early 90's. His cryptic educational history includes the term "Professor" but none of the four universities we contacted in Germany, Canada and Somalia had any records of his matriculation. He has participated in various UN and NGO conferences on ecological matters and has written about animals, ethnic groups and maritime resources.
Bauer established ECO²TERRA in 1986 and allegedly registered it in 1987. His site states that ECO²TERRA is "recognized as NGO, NGHA and charity, at first in the Federal Republic of Germany."
In the mid 2000's, ECO²TERRA, Ecoterra, ECOP and Eco Terra would then create a series of ambiguous sites with numerous links to unrelated charities defending animals, the oceans, ethnic minorities, a defunct Somali sultanate and even a stillborn Eco resort. In 2002, he set up a website which remained under construction for two years. During that time, he described Ecoterra as a "news site" and focused on the poaching of maritime resources off the coast of Somalia. In October of 2007, he had a unpleasant stint as a eco-tourism resort manager and found himself locked in his office as 100 rioting workers on the Segera ranch demanded he be fired.
In the fall of 2008 and early 2009, Bauer found himself as a sought-after blogger of the MV Faina hijacking, along with the colorfully named Prof. Dr. Muhammad Shamsaddin Megalommatis, who wrote a multi-part series under the Ecoterra and East African Fishing and Dumping Hotline and East African Seafarers Assistance Programme. The reports were free and Ecoterra was on the map. Mwangura feels like his East African Seafarers Assistance Programme was used by Bauer to gain legitimacy since Andrew's years at sea, his networks amongst kidnapped crews and contacts in the seafaring world were never monetized or rewarded.
Somalia Report has found no evidence of any actual programs, support or publications that would support EcoTerra's NGO status. We have asked Ecoterra to provide proof of toxic waste dumping and even sent one of our correspondents to visit coastal areas to corroborate proof of toxic dumping. Instead we found little to support their accusations. EcoTerra did not respond to an email request, but has sent lengthy threatening emails to Somalia Report and even distributed a blind email designed to endanger our correspondents inside Somalia. We are happy to provide a rebuttal for Mr Bauer. Generally, sources we talked to described Mr. Bauer as combative, secretive and prone to conspiracy theories. Not one person we contacted could find a photograph of Mr. Bauer, a single report on his NGO's accomplishments, or even an address of his NGO. He continues to issue regular lengthy reports on piracy, toxic dumping and maritime affairs. As of July Bauer was still maintaining that "
ECOTERRA Intl. and ECOP-marine serve concerning the counter-piracy issues as advocacy groups in their capacity as human rights, marine and maritime monitors as well as in co-operation with numerous other organizations, groups and individuals as information clearing-house. In difficult cases we have successfully served as mediators."
Julian Bauer continues to do interviews with the media, sometimes using aliases, and has represented his organization in the media as:
an NGO,

a charity,

a media organization,

a monitoring organization,

a Kenya-based group set up by scientists, researchers and development experts to seek solutions to environmental problems in developing countries,

an environmental and human rights organization,

a maritime monitoring agency,

a coastal monitoring group,

an international maritime group,

an environmental and human rights NGO monitoring maritime activity,

an environmentalist NGO that monitors illegal dumping,

a Dutch nature protection and human rights group,

a Kenya-based organization that follows events in Somalia

a piracy monitoring group,

a group which has campaigned for the protection of coastal communities' rights and resources in the region,

non-governmental observers,

a non-governmental organisation that also monitors the marine and maritime situation along the East African coast,

a maritime watchdog.
Concerned donors, organizations and Somalia have every reason to support NGOs who pledge to protect their maritime resources, the safety of seafarers or even in-depth coverage. They should also demand accountability for the funds and support. We have yet to uncover any evidence of Ecoterra and its various guises (all leading to the same address, bank account and phone number) providing benefit or even accountability. We urge readers to provide their input on this shadowy NGO, which operates under the following handles:
www.ecop.info

www.ecoterra.net

www.ecoterra-international.org

www.watha.org

www.warsangeli.org

www.madhibaan.org www.ogiek.org

www.khoisanpeoples.org

www.EcoSphere-Retreat.com
In June, the TFG began to crack down on NGOs and ordered all healthcare-related NGOs to register. Dr. Adam Hajji Ibrahim, the minister of health, held a press conference to communicate his concern that these organizations needed to become official despite the chaotic nature of their operations . Somalialand legislation on NGO's showed in 2010 NGOs were estimated to bring in $87M in revenue to the region
Puntland has formed a drought relief committee and seeks to expand delivery of water, food, medical and vet supplies.
During Somalia's time of need, Somalia Report has been conducting and will continue to conduct an investigation into NGOs, or those who purport to be NGO's but do not provide the services, skills or benefit they promise. We are looking to single out groups and individuals who abuse the public's trust and charity in what may be Somalia's most desperate hour.
We have been investigating people who have been representing themselves as charitable organizations but are not registered, present false credentials or are set up strictly to benefit the owners. Many of these groups rely on the lack of actual auditing of their facility, staff, accounts or activities by donors. We intend to physically visit and check in on NGO's who are deemed suspect and to report on our findings.
As part of our investigation we also will highlight those NGOs who do admirable work but do not receive enough attention. We have spent time on the ground with aid activities who selflessly care for the afflicted but do not do the normal self promotion required to get funding. NGOs are a critical part of Somalia's survival and the vast majority work selflessly to provide food, medical care, shelter and very survival.
Please send us your suggestions of NGOs that should be held accountable and those that should receive more positive focus.
Send your information with relevant name, address, documents, details and photographs to publisher@somaliareport.com.
Thank you,
Robert Young Pelton Publisher Somalia Report
Further Sources:
International Rescue Committee
The above sites are good sources to keep up on developments, donate money, get informational maps and reports. Keep in mind that most of their efforts of the large NGO's are focused on the camps in Kenya, not inside Somalia where the need is greatest.
NGO's In Kenya
You can also check with the Nairobi office to confirm that an NGO is registered before you donate. Many registered NGO's are not active or have no specific programs in Somalia. There are just under a million Somali's living in Kenya and about 100,000 in the camps and classified as refugees.
The Non-Governmental Organisation Co-ordination Board
Co-op Bank House, 15th Floor, Haile Selassie Avenue
P.O Box 44617-00100 Nairobi, Kenya
Telephone: +254-20-2213938/4044/4231/4487/4813/4821
Fax: +254-20-2214801
Email:info@ngobureau.or.ke

The UN keeps a "WASH" list of local NGO's and support groups that focus on the most immediate needs of civilians under stress in Somalia. You can download the complete database with contact info here: 110713_WASH_contacts.pdf
Although registration inside Somalia is hit and miss, The Somalia Consortium based in Nairobi maintains a list of legitimate NGOs working in Somalia: If there is a specific interest you have they can direct you to the best NGO for your donations.
Somalia Consortium of NGOs Peponi Rise of Peponi Road, Kitisuru
P.O Box 14762 - 00800
Nairobi, Kenya
E-mail: info@somaliangoconsortium.org
Telephone: +254-020 2607110/1
Fax: +254-020 2607112
Mobile Phone Number: +254 700 419246 / +254 734 211098
AAH-I - Action Africa Help - International ACTED - Agency for Technical Co-operation and Development
Adventist Development and Relief Agency Somalia
American Friends Service Committee
Agency for Peace and Development
Bani'Adam Relief & Development Organization Burhakaba Town Section Committee
Cooperative Assistance and Relief Everywhere Caritas Switzerland/Luxembourg Programme For Somaliland Comitato Collaborazione Medica
European Committee For Training in Agriculture
International Commiittee for the Development Peoples
Coordination Committee of Voluntary Service Organizations
Daryeel Bulsho Guud Website down
Development Initiative Access Link
Family Empowerment and Relief Organization
Golyome Rehabilitation and Development Organization
Gruppo Per Le Relezionni Transculturalli
Handicap Initiative Supporting and Networking
HORN RELIEF International Aid Services
International Peacebuilding Alliance
International Rescue Committee
International Research & Exchanges Board
International Solidarity Foundation
KISIMA Peace & Development Org
MEDAIR (Somalia/Somaliland) MERCY CORPS
Mubarak for Relief and Development Organisation
National Democratic Institute for International Affairs
Noleeynta Naruurada Mustaqbalka
Norwegian Refugee Council OXFAM GB
Physicians for Social Responsibility - Finland
Social-Life and Agricultural Development Organization
Samawadada Rehabilitation & Development Organization
SAVE THE CHILDREN Somalia/Somaliland Programme Swedish African Welfare Alliance
Society Development Initiative Organization
Veterinaires Sans Frontieres - Germany
Veterinaires Sans Frontieres - Suisse
Wajir South Development Association
Youth Organization for Relief & Development