Ahlu Sunnah Calls on Aid Agencies to Register
Says Move Designed to Stop Individuals Posing as Aid Workers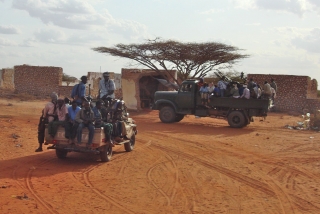 Pro-government Islamist militia Ahlu Sunnah Wal Jamaa, which controls areas in central Somalia, has ordered all foreign and local aid agencies to register with the local administration or be denied a license to operate.
Dhusamareb area District Commissioner Sheikh Abdulrahman Ali Geeda Qoroow told journalists late Monday that the agencies have 24 hours to report to his office.
"We saw it fit to call them after a public outcry against some organizations who are not working according to expectations," he said.
Abdulrahman told Somalia Report that some people were pretending to be working for aid organizations, and the move was designed to regulate operations.
However, Abdulrahman praised the response of agencies combating a vicious drought that has displaced hundreds of thousands and brought many to the brink of starvation.
Foreign aid agencies are stepping up the response to the drought, including in areas controlled by militant Islamist group al-Shabaab, which recently lifted a ban on foreigners working in the extensive territory under its control.