Government Troops Accused of Raping Displaced
Young Women Fleeing Drought Allegedly Targeted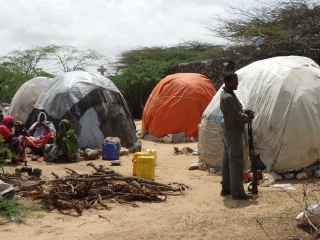 Somali women displaced by drought and living in a camp in Mogadishu's Dharkinley district, where they were recently settled by the Transitional Federal Government, have accused soldiers of raping young women.
Habiba Ibrahim, 48, told Somalia Report that her young daughter was raped by two TFG soldiers on Friday night, and also she witnessed TFG troops raping two other girls.
"I lost three of my children because of hunger, now they are raping us instead of helping," she said. "We left Dharkinley district, where the government resettled us; now we are in Hamar Weyne district and are asking our leaders to arrest those soldiers."
However, the TFG chairman of Dharkinley. Mo'alim Abdulle, denied the allegations.
"That is impossible; maybe some women were raped, but it is not TFG troops who were responsible. We will investigate the incident and send more security forces to the camps," he told Somalia Report. "We are here to help those drought-displaced people."
Tens of thousands of people have descended on Mogadishu in recent weeks, fleeing the ravaging drought many are now comparing to the events of the 1980s that mobilized massive international support in Ethiopia.