US Pledges $5 Million for Somalia
Kenya Promises to Open New Camp for Refugees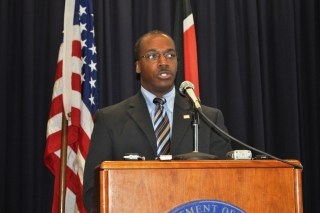 The United States is concerned over a growing refugee crisis brought on by a vicious drought in Somalia, and has pledged $5 million to help deal with the problem, US Deputy Assistant Secretary at the Bureau of Population, Refugees and Migration, Reuben Brigety, told reporters in the Kenyan capital Nairobi on Friday.
"Somalia is facing one of the worst droughts since the 1950s, ongoing conflicts in south and central Somalia and the lack of humanitarian access inside Somalia," he said. "The United States is already programming $63 million for refugee support in the region ... we included initial $5 million contribution for helping those affected people."
Reuben said 20,000 refugees were coming to the Kenyan refugee complex of Dadaab each month this year. The camp now hosts well over 300,000 people, even though it is designed to hold only 90,000.
Kenya's Prime Minister Raila Odinga on Thursday said the government would finally allow the opening of Ifo II, a new camp that can host 40,000 refugees immediately, with final capacity expected to be 80,000.
"We are happy and we are thankful to the Kenyan government and to the Kenyan people for having allowed these refugees to enter Kenya territories," Brigety said.
However, Brigety was cagey over the announcement from militant Islamist group al-Shabaab – which is linked to al-Qaeda – that it would allow foreign aid agencies to resume work in areas under its control.
"We are aware that al-Shabaab officials have recently said they would like international actors to come back and deliver food aid," he said. "Frankly, that is a proposition I think we have to consider very carefully."
Some aid agencies have already reacted to the lifting of the ban, with the UN Children's Fund (UNICEF) delivering five metric tons of humanitarian aid to Baidoa this week.
Action Against Hunger (ACF) on Friday also announced it was stepping up its response. The agency said 24 metric tons of aid would be delivered to Mogadishu early next week on specially chartered planes to "cope with the influx of patients" to its feeding centers.
The agency urged the international community to act immediately to ward off imminent famine.
According to ACF, ballooning food prices have played a big role in the crisis.
"With the previous poor harvests, scarcity of food and inflation of prices, a bag of 50kg maize currently costs $30 in Wajid (Bakool) and $45 in Mogadishu (compared to approximately 6USD previously): an unaffordable price for a vast majority of the population," the agency said. "These erratic food prices are likely to remain the same at least until next year with the new harvest in January."