Torrential Rains Kill 5 IDPs in Mogadishu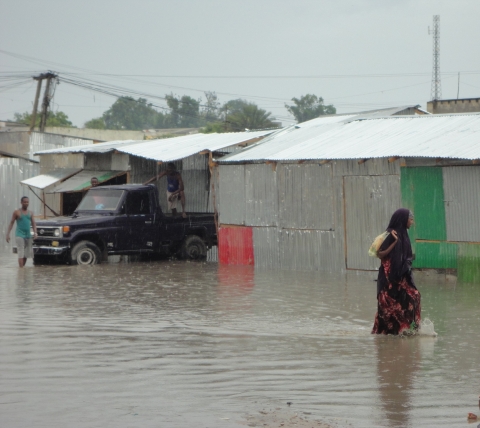 Torrential rains pounded Mogadishu in the last 24 hours and killed five internally displaced people (IDPs), including three children and two elderly, who recently fled to the Somali capital to escape the drought. Four other IDPs were wounded because they did not have adequate shelter or protection from the downpour and subsequent flooding.
"I saw a child, an elderly woman, and an old man die due to the heavy downpour," Mohamed Ahmed, an IDP in Mogadishu, told Somalia Report.
Hussein Botan, district commissioner of Wadajir, told Somalia Report that they offered emergency aid to the families of the children wounded by the rain.
In Dharkenley district of Mogadishu two children were reportedly killed by the heavy rain which also affected the movement of the people and transportation, according to Moalim Abdulle, the district commissioner of Dharkenley.
Mogadishu's neglected streets, some of which were undergoing repairs, were almost washed away by floods making them nearly impassable, severely limiting aid supplies from reaching the IDP camps.
Reports say the heavy showers have disconnected the Maka Al-Mukarama street leading to Aden Adde International Airport.
Thousands of people affected by the drought have fled to Mogadishu and neighboring Kenya seeking shelter and assistance in recent months.
Yesterday, the government moved at least 120 IDP families from Mogadishu to camps set up on the outskirts of the city.