UNICEF Resumes Aid to Al-Shabaab Areas
At Least 460 Children Dead This Year Due to Drought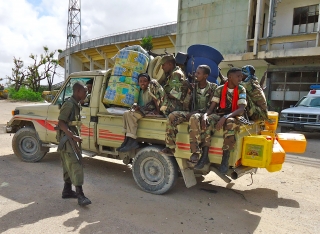 UPDATED JULY 14 WITH UNICEF STATEMENT
The United Nations Children's Fund (UNICEF) has resumed relief flights to areas under the control of militant Islamist group al-Shabaab in southern and central Somalia to help residents severely affected by drought and starvation.
Al-Shabaab last year banned foreign aid agencies from working in areas under its control, but this month reversed its decision as Somalia is gripped by a brutal drought that is also affecting the wider region. Somalia has been hit hardest by the drought, as the problems are exacerbated by the ongoing insurgency and rising food prices.
The first flight carrying 5 metric tons of humanitarian aid, including medicine and food for malnourished children, landed in the insurgent stronghold of Baidoa in Bay region, according to residents and the agency. The airplane landed under al-Shabaab's tight security at Baidoa airport, with many personnel and vehicles ready to collect the delivery.
"Officers from al-Shabaab including the chairman of Bay and Bakol regions, Sheikh Mahad Omar Abdirahman, and recently released UNICEF officer, Ali Black, were present at the airport when the airplane landed," Dahirow Garrow, a resident in Baydoa, told Somalia Report.
Once the plane was successfully unloaded and the supplies taken to a storage facility, the plane took off safely.
"Yesterday UNICEF airlifted to Baidoa 5 metric tons of essential nutrition supplies, including therapeutic food and medicine to treat severely malnourished children, and equipment to supply clean water to the camp for displaced people in Baidoa," said UNICEF Representative to Somalia, Rozanne Chorlton. "Health supplies are also en-route via Mogadishu, consisting of health kits with essential medicines to treat common childhood illnesses, such as respiratory tract infections, diarrhea, minor injuries and worm infestation, for 10 health facilities to reach up to 100,000 people over a period of 3 months."
Al-Shabaab recently declared that they would allow international aid agencies to operate in their controlled territories although their motives remain questionable as their decision comes amidst weakening support from locals.
Nonetheless, Chorlton said UNICEF was prepared to work anywhere in Somalia, provided the agency received "unhindered access".
UNICEF said over half a million children in Somalia were acutely malnourished and in urgent need of assistance. The agency said it and its partners had treated over 100,000 malnourished children until between January and May, although 460 had died, 86% in south and central Somalia. Many more are believed to have died before reaching feeding centres, UNICEF said.
"Resolving the lack of food aid and other resources to address food insecurity in the south is of utmost urgency to alleviate the impact of the current crisis," Chorlton said. "However, food alone is not enough. Children and their families need health services, clean water, nutrition and an adequate level of care and protection."