UN's Mark Bowden Sees Crisis First Hand
IDPs Relocated From Mogadishu as Bowden Calls for International Assistance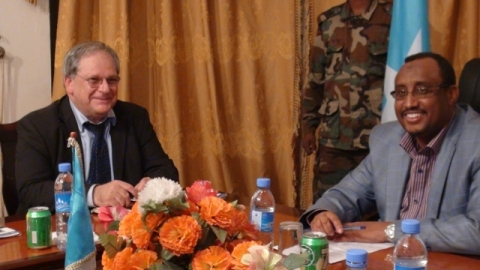 UN Resident Coordinator and UNDP Resident Representative Mark Bowden visited the Somali capital of Mogadishu to assess ways of helping the growing number of internally displaced people (IDPs) and to see first hand the level of crisis in the country.
In addition to meeting government leaders, including the Prime Minister Abdiweli, Mr. Bowden visited IDPs living within a dilapidated cathedral in the government-controlled area of the city. He also toured two new camps, Jasiira and Dharkenley, set up on the outskirts of the city.
Mr. Bowden told reporters that Somalia faces the world's most severe humanitarian crisis due to the drought, fighting, and lack of food.
"Large portions of the population are now facing very desperate circumstances and our staff are not even able to give assistance in many places," he said. The coordinator also called on the international community to provide assistance to the Somali people.
"I take this opportunity to appeal the international community to recognize the seriousness of the problem in Somalia because without the help of the international community we really cannot address this issue alone," he said.
Abdihakin Haji Mohamud Fiqi, Somalia's defense minister and the head of the drought committee, told reporters that 1,500 displaced people have been registered in the capital. Mr. Bowden, who attended the drought committee meeting, said they discussed ways of providing food and shelter to the IDPs in the city.
"We are very much trying to prioritize the assistance in a way that helps stop migration in the country because people are putting themselves at greater risk," said Mr. Bowden. "That is our responsibility and our challenge at the moment."
Somali President Sheikh Sharif Sheikh Ahmed said on Monday they had allocated half a million dollars to help the needy people.
IDPs Relocated
Meanwhile, at least 120 families were shifted to new IDP camps in Jaziira, 12km from Mogadishu, and Dharkenley district.
Throughout Tuesday, the main roads of Mogadishu were crowded with truckloads of IDPs and their possessions moving to the new camps.
"We are happy for this relocation project and hope for more emergency assistance," Halima Abdi, an IDP told Somalia Report.
A steady stream of IDPs have flocked to the capital in recent weeks to escape severe drought and continued fighting between government troops and the al-Shabaab militia.