Mogadishu Mayor Blames UN Aid Agencies
Tarsan Accuses UN of Giving Somalis 40 Year Old Stored Food, Displacing Somalis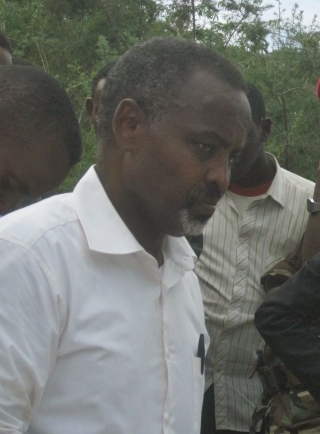 Mogadishu Mayor Mohamed Ahmed Nor Tarsan accused aid agencies of a multitude of errors including giving Somalis food which had been in storage for 30 - 40 years, further displacing drought effected people by distributing food at the borders instead of inside Somalia, and also not giving enough food.
In an interview with Somalia Report, the mayor on Monday said that the media misinterpreted his Sunday press conference.
"I said the aid agencies gave the Somali people 30-40 year old stored food including maize and wheat. I did not say expired food," he explained. "I don't want to mention specific aid agency, but all United Nation aid agencies are responsible for displacing Somali drought effected people because they are distributing food in neighboring countries like Kenya and Ethiopia instead of helping them inside the country. Even when they do help, the aid agencies do not give them enough food," Mayor Tarsan complained.
"Everyday our children and our mothers are dying because of hunger in the neighboring refugee camps. If they can't give them enough food why are they displacing them by forcing them to trek to the border?" he asked.
The mayor explained that aid agencies can't operate in most of the regions of the country due to al-Shabaab's influence, but there are areas that a safe.
"Al-Shabaab is not controlling Dolo, Garbaharrey, Luq and parts of Mogadishu. The aid agencies can operate here. Why are they displacing the poor people from their country?" asked the mayor.
Tarsan called for the aid agencies to co-operate with the government and immediately respond to requests and plea of the drought affected Somalis.
Tarsan's plea comes at a time when the UN's High Commissioner for Refugees, Antonio Guterres, is expected to meet Kenya's president Mwai Kibaki to persuade him to open a new camp for Somali refugees in Kenya after Guterres visited an overcrowded Dadab refugee camps.