Italy Promises Funds for Aid and New Hospital
Italian Delegation in Mogadishu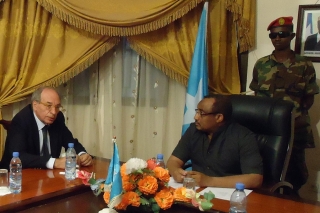 An Italian delegation led by Under-Secretary for Foreign Affairs Alfredo Mantica on Monday visited Mogadishu and pledged to re-open the Italian embassy and donate millions of euros for drought-affected communities.
"We offered $2.5 million for the drought-affected people through the aid agencies," he said.
"We and the Somali government will co-operate in the fight against the terrorism of al-Qaeda and al-Shabaab," he added, without giving details.
Mantica also promised to rebuild the Martini Hospital in Mogadishu, which was first opened during Italy's period as Somalia's colonial ruler. The hospital became home to disabled people, many of whom were killed when it was hit by shells in 2009.
The delegation also met with the Somali Foreign Affairs Minister Mohamed Abdullahi Omar to discuss the opening of the Italian embassy in Mogadishu. When opened, it will be the first European embassy in the country.
''For security reasons we shall open our embassy at the Aden Adde International Airport,'' said a member of the Italian delegation.