Analysis
Suspicion Over Al-Shabaab Lifting of Aid Ban
Move Presents Win-Win Scenario for Insurgent Group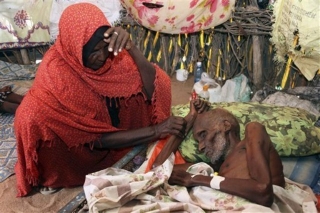 While militant Islamist group al-Shabaab has lifted a ban instituted last year on foreign humanitarian organizations operating in areas under its control, the decision is being viewed in many quarters as far from selfless.
The invitation to allow UN and non-governmental agencies to resume their work is seen as tactical decision that will give al-Shabaab an opportunity to reduce the pressure they have been under for some time. The group has been confronted by wide public discontent at its hardline tactics and is seeing drought-driven mass population movement from areas under its control at a time it is being pushed hard by pro-government forces on many fronts.
The anti-al-Shabaab offensive that started in February this year in south and central Somalia has strained al-Shabaab's resources, and youths who could be recruited to help it hold its ground are heading toward Kenya, Ethiopia and government-controlled areas in Mogadishu amid a worsening drought.
By denying locals access to aid, al-Shabaab felt it was leaching even more support. The group is concerned that, as people lose their livestock, crops and increasingly their lives, they could face a popular revolt.
According to political analyst, Abdiwahab Sheikh Abdisamad, local communities and elders have been pressuring the al-Shabaab leadership to allow aid to reach drought victims. The pressure increased steadily after the diaspora community got involved.
"Al-Shabaab felt if the drought kills more people, the local population will turn against them," Abdisamad told Somalia Report.
The militants have attempted to respond to the humanitarian crisis by setting up drought committees and food/funds collection centers, particularly in Baidoa, an area where they enjoy a huge local support. However, they were overwhelmed by the massive demand for aid.
After the death of top al-Qaeda leader Fazul Abdullah Mohammed at a government roadblock, tension among al-Shabaab leaders increased. The infighting is believed to have modified the balance of power within the Islamist group. The leader of al-Shabaab, Ahmed Godane, and several foreign militant commanders may have temporarily lost some influence, allowing leaders from South-Central Somalia to gain more authority and push forward their own agendas.
The recent declaration to allow aid agencies back came after a long negotiation process within the leadership. Although the statement does not clearly state the conditions under which the aid agencies will be allowed to operate, it clearly mentioned that "non-Muslims" were welcome.
"It was like they were conceding they were doing the wrong thing, and this will make the public think more kindly about the policies of al-Shabaab," Abdisamad said.
Even before al-Shabaab announced it will allow aid agencies back, the militants had improved their relationship with some of the humanitarian organizations that were operating in their areas. Those agencies which the militants mainly depend on for medical humanitarian support were able to negotiate well with the militants, and foreign experts were allowed to inspect field operations.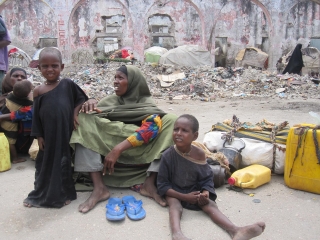 Aid Agencies Cautious
The humanitarian community is in no rush to deploy field officers and start operations, however. Therefore no adequate response to the drought crisis is expected, as projects will need time to be implemented. The low season rain is also expected between October and November, and the humanitarian community is not sure what al-Shabaab will do to them when the drought period ends.
The World Food Programme (WFP), which al-Shabaab had accused of ruining local markets by dumping food aid, said it was "very cautious" and waiting for further clarification.
"We left al-Shabaab-controlled parts early last year because of insecurity, in particular threats against our staff, and what we perceived as unacceptable conditions being imposed on us ... including extortionate requests for money in return for access," David Orr, a Nairobi-based spokesman for the WFP, told Somalia Report.
Recent airstrikes conducted by US drones have increased the level of alert of al-Shabaab forces in the Gedo and the Juba regions. The insurgents have arrested several alleged spies. The group has also increased the presence of its spy operatives known as 'Amniyaat' in those regions.
The airstrikes are expected to continue in the coming months, and workers of humanitarian groups face the risk of arrests and execution as al-Shabaab might suspect them as operatives who gather military intelligence for the drones.
Suleiman Isak, a Nairobi-based Somalia security consultant, told Somalia Report that al-Shabaab is likely to still place restrictive conditions on aid agencies.
"Al-Shabaab will restrict the humanitarian organizations, and might only allow local staff under their instructions in the areas they control," he said. "The humanitarian community should not expect al-Shabaab to give them much freedom to run their programs."
Some of the organizations are expected to send only national staff to continue operations. Others will directly negotiate with the powerful diaspora communities and elders to have access to provide assistance to the drought victims.
Win-win for al-Shabaab
Should the agencies return, al-Shabaab can point to its magnanimous gesture, while reaping the benefits of youths remaining in its areas, being able to requisition aid for its fighters and potentially gaining much-needed funds through demanding agencies pay to operate.
If the humanitarian organizations do no step up projects and respond adequately to the drought crisis, the militants will be able to tell the local communities that despite positive commitments made by local al-Shabaab leaders, the foreign agencies decided not to respond, essentially still making them look like the good guys.
Some agencies have already communicated to al-Shabaab they are not keen to come back. Somalia Report has learned some organizations have presented several conditions to al-Shabaab, such as the return of vehicles and facilities vandalized by the group, and commitments that al-Shabaab will not interfere with their work.
A senior aid worker with an international organization that has operated in Somalia said the group's concern over loss of popularity presented an opportunity for agencies to press home their advantage.
"They are now desperate and fear the local community will turn against them," he told Somalia Report. "The aid organizations are negotiating with them through clan elders and powerful individuals from the diaspora who approach these organizations."