EU to Send Money for Dadaab
€5.67 Million Aimed at Helping Deal With Massive Refugee Influx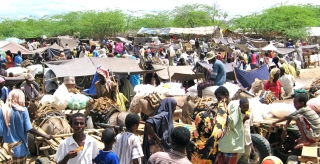 The European Union on Wednesday said it was sending an additional €5.67 million in aid to the Dadaab refugee complex in north-eastern Kenya as a massive influx of Somali refugees strains the camp's facilities.
"Severe drought is making tough living conditions unbearable, adding new pains to those caused by conflicts and erratic weather," said Kristalina Georgieva, European Commissioner for International Cooperation, Humanitarian Aid and Crisis Response.
"Dadaab is just the starkest reminder that the spectre of hunger has returned to Africa," she added. "We are acting today to respond to one of the most urgent problems, but we are preparing to commit more resources to the relief operation. What we are witnessing in the Horn of Africa is now considered to be the worst food crisis in the world today."
Millions are at risk in the Horn of Africa, particularly Somalia, where conflict has worsened the effects of a severe drought.
The European Commission said at least 61,000 Somalis have arrived in Dadaab since the beginning of the year, and the complex's population stands at over 370,000 in three camps.
Hundreds of thousands of Somalis have also been internally displaced, fleeing to the war-torn capital Mogadishu in search of aid. Militant Islamist group al-Shabaab on Tuesday said it was lifting a long-standing ban on international aid agencies in areas under its control in response to the growing crisis.