Al-Shabaab Allows Aid Agencies to Operate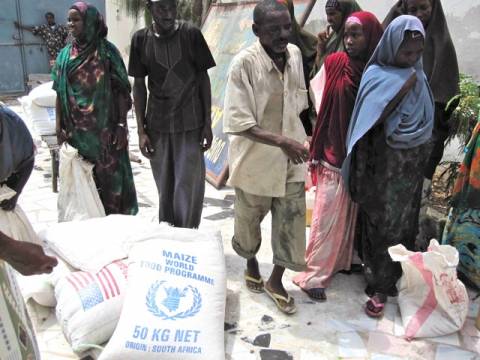 UPDATED WEDNESDAY JUNE 6
Militant Islamist group al-Shabaab announced late Tuesday that both local and international aid agencies will now be allowed to assist drought-affected people in areas under their control due to the severity of the crisis, after banning the groups last year. This comes as the militants attempt to regain popularity among Somalis.
Residents welcomed the announcement, but said they would not count their chickens until aid begins flowing in.
The group's spokesman, Sheikh Ali Mohamud Rage (Ali Dhere), who held a press conference in the northern part of Mogadishu, agreed to allow the charity groups access to their regions whether they are 'Christian aid agencies' or Muslim organizations.
On July 20, 2010 al-Shabaab's head of the policy and regional administrations, Sheikh Hussein Ali Fidow, released a statement banning international aid organizations, including the World Food Programme and UN Development Programme, from operating in the regions controlled by the insurgents.
Rage also announced they are launching a new committee to oversee the program, which will be led by Sheikh Hussein Ali Fidow, head of al-Shabaab's policy and regional administrations.
"We have long been involved in helping our Muslim community, who live in the large areas we are controlling at the moment. There are hundreds of drought-affected people that will not survive unless we are here," said the spokesman, "Truly Shabaabul Mujahideen is focusing on feeding those victims since they are our people."
Sheikh Ali Dhere said that the Somali people would no longer be controlled by certain individuals, whom he refused to name, sparking rumors of infighting between the top al-Shabaab leaders.
In April, Somali clerics called on the militants to allow foreign agencies to assist people in need, but the insurgents denied the request until today.
The details of which groups, locations, or type of aid has yet to be announced.
Worst drought in years
Somalia is in the grip of one of the worst droughts in recent memory, forcing tens of thousands to flee their homes.
Jens Oppermann, Somalia Country Director for Action Against Hunger, wrote on his twitter account that the pictures of internally displaced were "heartbreaking".
"Last time I've seen such was during the famine in the 80s," he tweeted, referring the Ethiopian drought that mobilized millions in the developed world to donate money.
"We really surprised at the announcement," a resident of Baidoa, Dahabo Isse, told Somalia Report. "We shall see how committed they are."
Residents in Kismayo said they were relieved at the decision, and hoped aid would come soon. "We had the worst drought in our regions for years and we have for a long time needed help from external or internal aid organizations, though we are sceptical because al-Shabaab refused to name specific aid organization which would be allowed to operate in the insurgent-controlled territory, like World Food Programme," Kismayo resident, Garad Jama Muse, told Somalia Report.
Government officials and elders also welcomed the news, and called on aid agencies to begin speaking to al-Shabaab to work out the specifics of the new arrangement.
"We are happy to hear this ... people need food, water and shelter," Madoobe Nunow Mohamed, Somali lawmaker from Bay region, said. "We call on aid agencies to support vulnerable people."
Nobody from the WFP was available for comment on when, or if, aid operations would resume.