School for Girls to Open in Guri-El
Part of Wider UNICEF Plans to Boost Female Education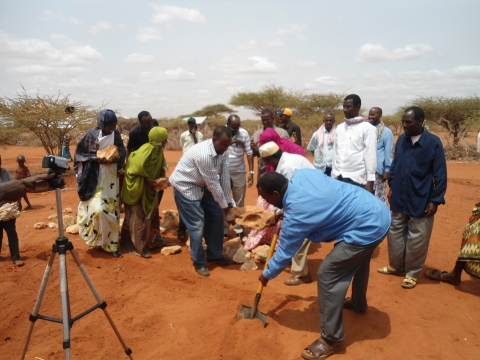 Foundations have been laid for a girls' school in the central town of Guri-El - part of wider plans by the UN Children's Fund (UNICEF) to boost education for young girls, who suffer discrimination, in the district.
Local residents and officials, UNICEF's senior education official for central and south Somalia, Hersi Ainab, and the head of local non-governmental organization IIDA in Galgadud, Halima Ismail Ibrahin (Halima Yarey) all attended the ceremony.
Guri-El District Commissioner Oman Isse Nor (Taardhuleed) said they were proud to establish a school for the girls and women.
"We are happy to participate in this ceremony, and we are here to pay the whole cost of the school building," said Ainab.
After the building is completed in August, IIDA will take over the maintenance and progress of the school and its students. When completed, the school will consist of six classrooms, one library, and offices to accommodate between 250-300 girls. There will be ten teachers, seven of which are women, who will teach girls and women between the ages of ten and 40.
According to UNICEF, there is an acute shortage of schools and girls' enrolment is extremely low in Guri-El. The heavy flow of internally displaced fleeing fighting in Mogadishu and other areas has over-burdened the few dilapidated education facilities, the agency says.
Girls also face societal discrimination, with boys given priority for education over their female counterparts. The girls can face bullying by male students, and are often kept at home to avoid harassment. Even the issue of communal toilets for both sexes has led many girls to drop out, UNICEF says.
In total, 2,280 children (983 girls) and 44 teachers (16 female) will benefit from UNICEF's project, which apart from building the school aims to mobilize communities to enrol their daughters, improve sanitary services for girls, and distribute educational supplies to schools.