Measles Takes Toll on Somali Children
At Least 25 Dead This Year From Complications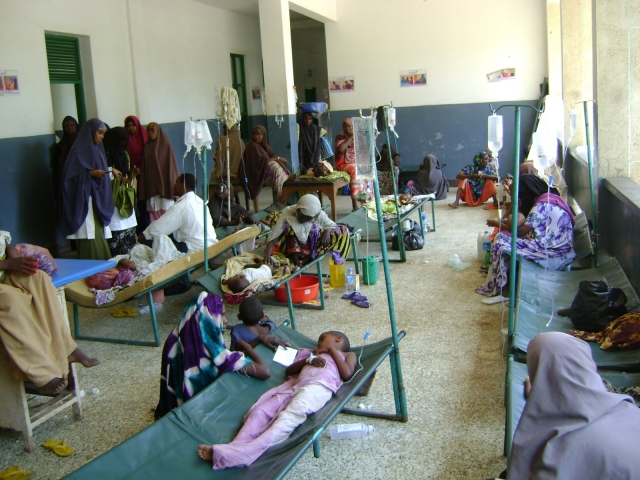 At least 25 children have died of measles in Somalia this year so far, with another 90 fighting for their lives in the under-equipped and under-resourced Banadir Hospital, a doctor told Somalia Report.
Dr Lul Mohamud Mohamed, the director of Banadir Hospital's pediatric department, said that 407 children suffering from measles have been admitted since since April, 169 of them in June alone.
Misconceptions and poor awareness have hindered vaccination efforts in Somalia and as the concentration of internally displaced people in the camps continues to grow, doctors believe many more children will die of measles and its related complications.
"Measles cases among children have been on the rise due to a lack of vaccination coverage across the country," she said. "The flow of internally displaced people into the capital is making the situation much worse."
Thousands of families are arriving in Mogadishu each month, preferring to take their chances amongst the flying bullets and shells than face hunger and thirst brought on by a severe drought. Banadir Hospital operates in a government-controlled area of Somalia's volatile capital. Even as Somalia Report interviewed patients, gunfire broke out near the compound, forcing the staff and patients to run for cover. One women was killed in the incident.
Mohamed said the children, many malnourished, were at serious risk of complications due to their weak condition.
"Children are likely to develop other problems like diarrhea and malnutrition because their immunity has already been weakened," she said. "This disease is easily preventable through vaccination but unfortunately this is not happening in our country."
Measles cases have overwhelmed the hospital, with many painfully thin children lying in the corridors.
Fowziyo Yusuf Hassan has been looking after her one-year-old son, Mohamed for 15 days in the hospital.
"I can't sleep at night," she told Somalia Report. "He has a temperature, and I try to put a wet cloth on him, but it soon dries out."
Some international agencies have started vaccination programs for illnesses, including measles, but there is also some cultural resistance.
"My husband told me not to vaccinate the children because he thinks it is something from the west," mother Nurto Hassan told Somalia Report. "From now on, I will not listen to him because I can see measles is an enemy."
Dr Lul says the biggest challenges that face the hospital today are scarcity of medical and nutrition supplies, as there is no aid agency or a government that supports it.
"Sometimes children die of simple preventable causes," she said. "They develop breathing complications and need oxygen system, but we do not have it."