Exodus of 300 IDP Families Arrive in Mogadishu
Drought Forces Families to Seek Shelter in Abandoned Building, Need Assistance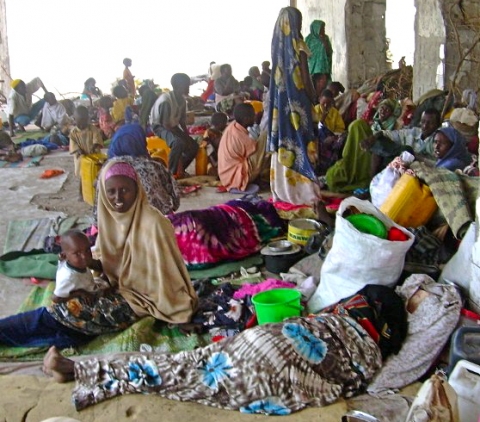 At least 300 internally displaced people (IDPs) from Bay, Bakol and Lower Shabelle regions arrived by foot early morning on Monday and are holding up under abandoned building in Waberi district of Mogadishu.
Ahmed Makaran, commissioner of Waberi district, told Somalia Report that a huge exodus of families fleeing from the drought were arriving unexpectedly the district which is not capable of assisting such a large group in desperate need of help.
Some of the arrivals told Somalia Report that they have lost everything including their livestock and were not able to remain their locations for lack of water and devastated hunger.
"We have witnessed our livestock, including camels, die of thirst The land has become barren and dry. There is nothing to drink and our residents and young toddlers have died of thirst," Osman Madow, a father of four children from Bay region, told Somalia Report.
In March, 150 families affect by drought arrived in Mogadishu by foot and were assisted with food and temporary shelters by residents in Hamer-wein district, businessman and civil society groups, unlike these new arrivals.