Somali Children Flocking to Kenya Refugee Camp
800 Children, Many Malnourished, Arrive Each Day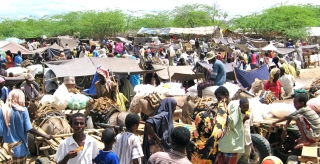 An international aid group says over 800 Somali children are arriving at Kenya's overcrowded Dadaab refugee complex each day in a bid to escape their country's devastating drought.
Save The Children says children are the main component of the nearly 1,300 people who come each day to the three camps that make up the complex in north-eastern Kenya.
In an interview with Somalia Report, Media Manager for Humanitarian Emergencies, Andrew Wander, said the situation was "extremely seriously."
"What we are seeing is, on top of conflict in Somalia, a humanitarian crisis developing," he said. "People don't have enough food to eat, and they can't afford to buy any because of the sky-rocketing global food prices."
The UN refugee agency (UNHCR) says more twenty thousand Somalis have arrived at the camp over the past two weeks alone, an increase from last year when some 6,000 to 8,000 Somalis were arriving at the refugee camps in Kenya each month.
"We have registered over 20,000 new arrivals at the Dadaab camps in the last two weeks," UNHCR spokesperson Emanuel Nyambera told Somalia Report.
Kenya hosts more than 300 thousand refugees, mainly from Somalia, in Dadaab, which was initially designed to accommodate not more than 90 thousand refugees.
However, two decades of conflict, and of late severe drought, has driven more refugees into the camps.
"If no action is taken urgently, the situation risks deteriorating, thus worsening the current humanitarian crisis," Nyabera said.
According to Save The Children, some families that managed to reach the camp had to walk for weeks.
"They have nowhere else to go," said Wander.
Save The Children is appealing for urgent assistance for thousands of malnourished children as millions in the Horn of Africa region face drought.
"They need urgent assistance because no rain is expected until October this year, and the situation is getting worse," he said.
Over ten million people in the Horn of Africa have been hit by the worst drought in 60 years, according to the UN Office for the Coordination of Humanitarian Affairs (OCHA).
A poor rainy season coupled with rising food prices have led to serious food shortages in countries including Djibouti, Ethiopia, Kenya, and Somalia.
Save the Children says it's now appealing for more than $2.6 million dollar from the UK alone.