Drought and Diarrhea Kills at Least 40
Health Secretary, Doctors, Residents Beg World for Immediate Help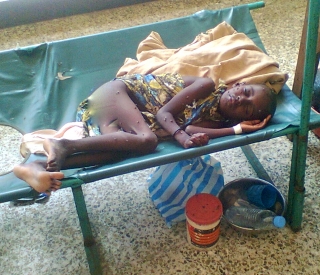 At least 40 people have died in the last three weeks in Somalia's central regions from malnutrition and Acute Watery Diarrhea (AWD), and more than 150 others are suffering due to a lack of healthcare. In addition, international aid groups have very little access to those in need due to a ban imposed by the al-Shabaab insurgent group.
Deaths have been reported in Ceel-Huur, Hin-Barwako, Hobyo, Haradhere, Amaara, Ba'ad-weyn in Mudug and Galgadud regions, but many more deaths go unreported due to lack of communications in many rural areas.
Local elders and officers told Somalia Report that people in these areas are at severe risk of death and requested the UN and aid agencies to help immediately.
Health secretary of the regional state Himan & Heeb, Abdulahi Abtidoon, confirmed the deaths and called for the international community, healthy Somalis and businessmen to urgently help the drought effected people.
"We can say this is disaster because people are dying in the streets. You see a mother died and her baby is sitting under the trees. We made the assessment that most of the people don't have breakfast, lunch, even water," Abtidoon told Somalia Report.
"We are requesting the world to assist our community. They are dying everyday," explained Abtidoon.
"If you are journalist, please send our request to the world. We don't have food and water. All of our domestic animals have died," said 51-year old Haji Dualle, an elder in Ceel-huur village told our correspondent. "I had three children, one of them died because of diarrhea and the other two are suffering."
"We did not get enough rains in the last three years. There are no aid agencies here, no health care. I'm 51 years old and I have never seen this before. Remember if we do not get immediate help, all the community will die," added Dualle.
Other cases of diarrhea and starvation have reported from Bay, Bakool, Gedo, Lower Shabelle, Middle Shabelle, Lower Juba, Middle Juba and Mogadishu area.
In the last two days, Banadir Hospital in Mogadishu received approximately 40 children less than five years of age, all of whom are suffering from diarrhea; six of them died.
Dr. Faduma Ahmed, head of the children's section in Banadir Hospital, told Somalia Report that the hospital has received 42 children since early Thursday due to their consumption of unclean water.
"Water related diseases are spreading in more areas, particularly in the outskirts of the capital were displaced people live," Ahmed said.
"There is no organization which assists the hospital, so now the hospital is running out of medicine and we are holding more than our capacity," said the doctor. "Ailing children are being brought here hour-by-hour. I'm worried that more deaths will happen."
"We are calling on international healthy agencies like WHO and MSF or Somali businessmen to help the hospital," added Dr. Ahmed.
Al-Shabaab banned international aid agencies including the United Nations Development Program (UNDP), World Health Organization (WHO), MSF, World Food Program (WFP) and The Office of the United Nations High Commissioner for Refugees (UNHCR), which were very active in Somalia, accusing them of proselytizing.
In a statement released by the group last year al-Shabaab said NGOs were "acting as missionaries under the guise of humanitarian work; these organizations have been spreading their corrupted ideologies in order to taint the pure creed of Muslims in Somalia".