Crime
Militants Resort to Criminal Tactics in Bay and Bakol Regions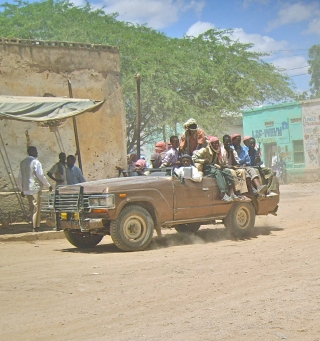 The al-Shabaab Islamic group battling for control of Somalia are notorious for their implementation of strict Islamic sharia rule in areas under their control and harassment of local residents. As they lose more territory to the allied forces of Somalia and the African Union peacekeeping force (AMISOM), the militia has rapidly resorted to common criminal acts including carjackings and robberies to keep their jihad funded, as residents and victims complained to Somalia Report.
According to Mama Hawa Ali, a businesswoman who trades in fabric in Dinsoor town in Bay region, militant fighters continue to loot the shops in the town in broad daylight.
"We are being harassed by these young men who people tell me are al-Shabaab fighters. They can come anytime and confiscate our properties. Most of the businesses here are at risk of closing down and I personally also have the same plans. Maybe we will take a month off until the level of security improves," she told Somalia Report.
What is causing the hardline Islamists to commit criminal acts when they were the ones tasked to prevent such behavior? To learn more, Somalia Report spoke with residents of Hudur, the capital of Bakol region and one of the towns recently seized by...
08/10/2012